Egypt to try 24 youth activists over illegal protest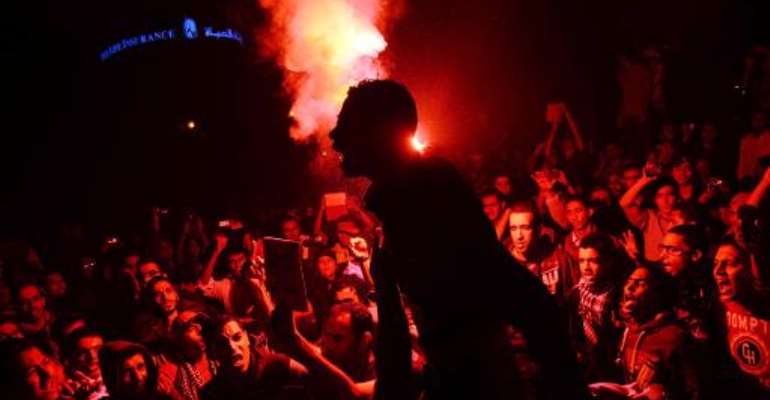 Cairo (AFP) - More than 20 youth activists will go on trial on Sunday for taking part in an illegal protest, including the sister of a prominent figure from the 2011 uprising recently jailed over similar charges.
After the army ousted Islamist president Mohamed Morsi last July, the authorities launched a harsh crackdown on the Islamist and secular opposition.
In recent months, dozens of youth activists have been jailed for protesting illegally, after a law banning all but police-sanctioned rallies was adopted in November.
The 24 defendants, including seven women and a minor, are being tried for taking part Saturday in an unlicensed demonstration organised to denounce the protest law.
They are charged with "protesting without authorisation, damaging public and private properties and blocking traffic," defence lawyer Mohamed Abdel Aziz told AFP.
All of them were arrested on the day of the protest, defence lawyer Ahmed Seif said. All of them are in still in custody, except for one who was released on bail because he was injured.
Among them are Yara Sallam, who won an award in 2013 for her work in the field of human rights, and Sanaa Seif, the younger sister of Alaa Abdel Fattah, a symbol of the 2011 uprising against long-time president Hosni Mubarak.
Abdel Fattah himself is currently in custody awaiting a retrial after being sentenced to 15 years in jail for assaulting a policeman during an illegal protest.
Seif's mother, Leila Soueif, told AFP Saturday's protest in a Cairo neighbourhood came under attack by "thugs who hurled stones and glass bottles at demonstrators, before police fired tear gas to disperse the rally."
Since Morsi's ouster, a state crackdown targeting his supporters has left more than 1,400 killed and at least 15,000 jailed.
Hundreds have been sentenced to death in speedy mass trials that have sparked an international outcry.
With the election as president of ex-army chief Abdel Fattah al-Sisi, the man behind Morsi's ouster, rights activists fear a return to an autocratic rule worse than the Mubarak regime.