US military ties with Egypt trump rights concerns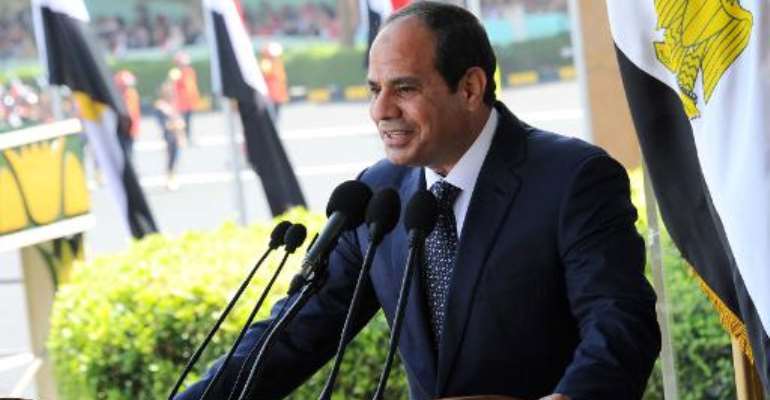 Washington (AFP) - The United States may claim to be appalled by Egypt's human rights record, but its 35-year-old military alliance with the most populous Arab power remains sacred.
Having stuck through Cairo through long years of authoritarian rule, Washington has faced a dilemma since the Arab Spring of 2011.
How does one reconcile a defense of democratic ideals with the need to maintain a strategic partnership with a key Middle East player with a dubious human rights record?
"It's not black and white," State Department spokeswoman Marie Harf admitted on Monday when asked about the United States' ambivalent stance toward Egypt.
The Egyptian court system has just sentenced three Al-Jazeera journalists to jail terms of seven to ten years, just a few hours after Washington urged Cairo to show clemency.
Shortly before the verdict, US Secretary of State John Kerry had said he was confident that Washington's delivery to Egypt of 10 Apache attack helicopters would take place soon.
And his department confirmed that $572 million in aid to Egypt had just been unfrozen.
Each year the United States allocates $1.5 billion in aid to Egypt, including $1.3 billion in military assistance.
This was frozen in October on condition that democratic reforms be enacted after the July 2013 military-led overthrow of Islamist elected president Mohamed Morsi and a vicious crackdown on his followers.
Morsi's nemesis, former army chief Abdel Fattah al-Sisi, was elected president in late May, and Kerry expressed to him US concerns over civil liberties.
Speaking in Baghdad on Monday, Kerry called the journalists' convictions on terror charges "chilling and draconian."
The White House called for the three reporters to be pardoned, and the United Nations, Britain, the Netherlands and Australia voiced loud protests over the convictions.
But, although he expressed concern, Kerry did not question US aid to the Egyptian army, which he himself said a year ago was the best investment the United States has made in the region.
- 'Complicated' relationship-
Indeed, said Harf, the United States' relationship with Egypt is "a complicated one."
"We can on the one hand express our displeasure, express our concern about human rights, and also say but there is, at times, a shared interest to provide some assistance," said Harf.
Washington is keen to help the Egyptian military to fight what it sees as terrorism, especially in the Sinai peninsula, which is a stronghold of jihadist groups.
"What we do in Egypt and everywhere else is balance those interests," she said.
"This is about the fact that we have shared strategic interests, that the assistance we provide to them – all of that is done in service of those shared strategic interests," she added.
"It's all where the United States national security interests lie."
A source of support for the regimes of President Anwar Sadat and Hosni Mubarak for three decades, the United States have made Egypt the center point of its regional diplomacy, notably serving as guarantor of the Israeli-Egyptian peace accord of 1979.
Egypt was the first Arab country to sign a peace treaty with Israel.
This alliance has never been fundamentally questioned, even if it has has sometimes come under outside pressure because of human rights concerns since the overthrow of Morsi.
And Washington seems willing to turn a deaf ear to its critics.
Researcher Amy Hawthorne of the Atlantic Council says "there is little to suggest such an approach will have any positive effect on Egypt's political situation, just as this same approach had no effect on Mubarak."
While the defense of human rights and democracy may be claimed as a priority by the administration of President Barack Obama, "by all indications, Egypt is heading in the exact opposite direction, towards the consolidation of a new authoritarian regime," the former State Department official wrote in the Christian Science Monitor.