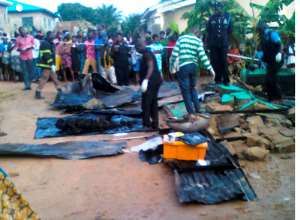 Police officers recovering the charred bodies of the victims from the burnt house
RESIDENTS OF Trede in the Atwima-Kwanwoma District of the Ashanti Region were struck with horror after a family of five, including a nine-month-old baby boy, was burnt in an early morning fire that gutted their home yesterday.
Daniel Baafi, a 40-year-old man, together with his wife, Yaa Adu, 35, his two sons – Wofa Yaw, 12 and Nana Yaw, nine months – and his daughter, Maame Kyerewaa, aged seven, died in the blaze.
They were fast asleep in their uncompleted semi-detached house at Trede New Site, behind the Champion fuel station on the Kumasi-Anwiankwanta road, when the tragic incident happened.
The horrendous fire tore through the only completed one bedroom which the five victims were occupying, destroying the couple's personal belongings that included a refrigerator, a television set, and gas cooker.
Georgina Amponsah, resident of the area, told DAILY GUIDE the family was trapped by the burglary-proof metals fixed into the windows, and screamed for help that never came due to the ravaging blaze.
Explosion
According to the eyewitness, she heard a loud bang from the house of the family, which sounded like an explosion, magnifying the flames and ballooning into the atmosphere.
She added, 'We rushed outside and saw the house on fire with the occupants looking through the window and shouting for help.  'We're dying! We're dying!' It was horrific.'
Mr. Clement Obeng Fordjour, District Coordinator of the National Disaster Management Organisation (NADMO), who was at the scene, described the incident as tragic.
He told DAILY GUIDE that personnel from the Ghana Fire Service worked extremely hard under some very difficult conditions, to prevent the fire from spreading to the adjoining properties and causing further tragedy.
He said the charred remains of the deceased were taken away for preservation.
His able lieutenant, Kofi Tottimeh, in charge of the District NADMO Operations and Mobilisation, said preliminary assessment indicated that the fire was caused by an electric wire that tripped when power was restored to the area after an outage.
The police were not available for comment. There was a similar family tragedy at Ejisu in March this year that involved a 51-year-old seamstress and her four children.
 From Ernest Kofi Adu, Trede-Ash.