'Women Must Take Lead Roles'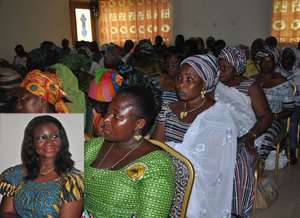 A cross section of the women during the event, INSET: Joyce Bawah-Mogtari, Deputy Transport Minister
The lack of interest in the decision-making process on the part of women continues to hamper their efforts at making positive contributions to national development, the Deputy Minister of Transport, Joyce Bawah-Mogtari has noted.
In spite of several laws formulated to encourage women to partake in the democratic process, many females have failed to occupy positions due to some outmoded cultural practices and lack of opportunities.
Women have therefore been charged to eschew petty gossips and practices and forge ahead in unity to pursue a common agenda of liberating themselves.
Mrs Joyce Bawah-Mogtari noted that women have allowed themselves to be relegated to the background for far too long.
According to her, several women who assumed enviable positions had preformed creditably, adding that such women should serve as role models for the young ones.
The deputy minister, during the launch of the Women's Wing of the Gonjaland Youth Association (GYA), condemned violent acts in some parts of the region, noting that these actions hamper the development of the North and negatively affect women and children, who are considered as the most vulnerable in society.
'We must not be divided by politics, chieftaincy or religion,' she remarked.
The situation in which about two-thirds of females in Gonjaland are illiterates need an immediate reversal, Mrs. Bawah-Mogtari said.
She emphasized that education would help the women to develop their potentials to eradicate poverty and illiteracy.
On his part, the President of the Gonjaland Association Alhassan Dramani, noted that women, the dominant section of society, have to effectively perform their functions.
He explained two key positions-2nd Vice-Chairperson and the Women's Commissioner- were reserved for women during the 2012 amendments to the constitution of the association, noting that it would encourage the women to get involved in the decision-making process.
The president of the association commended Dr Afisah Zakaria, Mrs. Joyce Bawa Mogtari, the first woman deputy minister from Gonjaland and  Shiela Naah-Baomah, acting Chief Executive Officer (CEO) of the Student Loan Trust Fund  for empowering women in Gonjaland.
From Stephen Zoure, Tamale