Catholic Youth Supports Children Living With HIV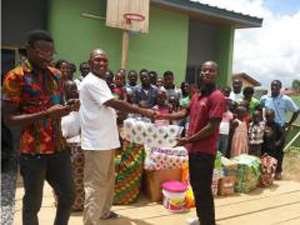 Members of CASU presenting the items donated to the inmates of Human Compassion Home.  
The St Francis of Assisi Catholic Church Students Union (CASU) has presented food items, clothing and an undisclosed amount to inmates at the Human Compassion Organisation in Accra.
The organisation is made up of children below the ages of 18, who are carriers of the HIV/AIDs.
Presenting the items on behalf of CASU, Thomas Quaye Jnr, president of the group, said, 'It is part of our social responsibility and Christian virtues to extend a hand to the needy in the society.'
'As we are young, we have to learn how to support the less-privileged in society so that when we grow up, we can continue to support the vulnerable in society.'
Mr Quaye Jnr urged other youth to help the poor in their own small way.
'As Christians, we are taught to help and care for the poor and needy and not only about ourselves and when we continue with this attitude, there will be less suffering in the world,' he admonished.
The Director of the Orphanage, Daniel Boyi Mensah, who received the items on behalf of the inmates, expressed gratitude to the youth for having spent time with the children aside donating to the Home.
The Director averred that the Home rely on philanthropists to meet their needs.
'Aside the utility bills catered for, our current apartment is a rented one for which we have been paying rents for the past few years.'
The Human Compassion Home is an orphanage located at Pokuase-Mayera, a suburb of Accra, which houses children between the ages of two to17years.
The organisation, which was started by the late Mrs Linda Akyaa Mensah at Ofankor in 2005, gained its grounds to officially operate as an orphanage in 2010.
It has been a home for children who have been made orphans by their HIV status or that of their parents. Currently, the Home has 17 children excluding those who have been seen through secondary school and are now trading or learning a profession.
The Home also has an HIV adult support group, made up of 84 members, who are not residents but meet at the orphanage monthly for counselling on how to maintain their health.