NPP now is like a celebrity in Europe - Freddie Blay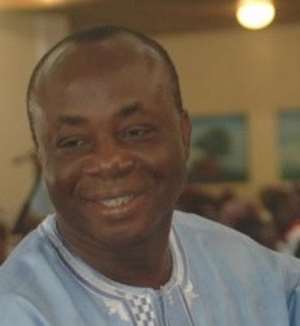 First vice-chairman of the opposition New Patriotic Party (NPP), Freddie Blay is appealing to party members to be clam in spite of the bickering in the party.
According to him, the NPP as a human institution is bound to have challenges but "the media blows it out of proportion because the NPP sells".
"We are like a celebrity in Europe so any small thing that happens the media blows it out of proportion but please let's be cool everything will be fine," he assured party members.
A lot of people have expressed concern about the internal wrangling in the NPP which is touting itself as a government in waiting.
The wrangling took a new twist with a reported clash between security guards appointed by the old executives and those appointed by the new at the party's National Head quarters in Accra, Monday. According to reports, the new guards had come to take over duties at the party's National  Headquarters but the old guards resisted, insisting they had no information about the new arrangement.
This resulted in a scuffle prompting the police to intervene.
Political pundits have described the conduct of the opposition party as "irresponsible and disgraceful" with many doubting its readiness to win the 2016 general elections.
But Freddie Blay on Asempa FM's Ekosii Sen programme Monday, disagreed vehemently with such assertions.
He said though the NPP is always in the new for the wrong reasons, "things are not that bad as the media wants it to seem".
Conceding that party members are worried about the seeming division, the first vice-chairman indicated that it could also be a good omen since "it gives the party publicity".
"Just as gold passes through fire; the NPP is also going through challenges but I am convinced we will come out stronger to win the 2016 elections," he added.
Freddie Blay said the national executives are working assiduously to settle all grievances in the party for a united front in 2016.
 
[Posted by JTM] Story by Ghana/Adomonline.com/Adwoa Gyasiwaa