Post Ekiti Guber Polls: Hon Bimbo Daramola Reacts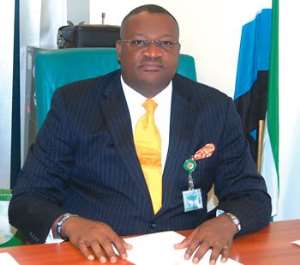 Hon Bimbo Daramola
''About 5 months ago my Governor and other stakeholders appointed me to lead the campaign for the re-election of JKF back into Ekiti state Govt House. I took the heavy task trusting God and our good people, every step of the way I saw God and a determined people.
We preached continued development sustained growth and progress which the JKF personae had become and now represents. So what happened?
My answer is that all truth goes thru 3 stages, first its first ridiculed 2nd it is violently opposed and 3rdly it is accepted as self evident. So got regrets? No! I'm unbowed and unfazed bcos I gave my all like many others on and off the field.
To you all I remain indebted and grateful. I'm assured that government and governance has meaning to ekiti people in the sence in which it really should, and so if the election results of yesterday truly represents the views of Ekiti people then i rest my case and ask that they take ownership because a people get the leadership they deserve.
To my Governor JKF is more than letters from your names but a philosophy of service, others above self. Maybe we are so much in a hurry to reclaim lost grounds for Ekiti, whichever way its evaluated you will forever be so highly esteemed very soon, lives of great men provides basis for such inference. To egbon Ayodele Fayose, I wish you well as you prepare to mount the saddle of Governor in our dear state. God bless us all.''-
Signed:
Hon Bimbo Daramola, DG-JKF Campaign Organisation.
(Currently Representing Ekiti North Federal Constituency 1 at National Assembly).