Minister In Trouble Over "Wife-Snatching Saga"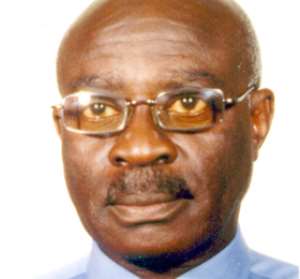 The scandalous allegations of wife-snatching the rocked the ruling NPP-government early last year, involving the deputy minister for the Interior, Mr. Thomas Broni has now taken a different twist.
In what is billed to be a dramatic case before the Kumasi high Court beginning next week Monday, Mr. Tony Osei Tutu, a key figure within the Greater Accra Regional NPP and estranged husband of Ms Martha Nkrumah, the woman at the centre of the scandal, has now sued his former in-laws for gross defamation.
He is contending hat statements put out by the former-in-laws in defence of Mr. Thomas Broni in the dailies were defamatory of him. The writ also cites Mr. Broni's affair with Ms Nkrumah as being responsible for the break-up of their marriage homes.
Mr. Osei Tutu said he was shocked while writhing over the loss of his sweetheart by newspaper publication in which Mr. Moses Kwasi Nkrumah vehemently denied ever accepting his marriage to his daughter. He said he was also equally dazzled at the report which indicated that he had seduced Ms Nkrumah when she was only 17 years old, as a result of which she could not pursue her law degree at the university. He said the newspaper report based on interviews with parents also maliciously alleged that he had threatened to kill himself and their two children, and that in the process he was arrested by armed policemen who intimated and manhandled me before taking the children away.
Osei Tutu contends that these and other series of allegations leveled against him by his former in-laws were false and "have had the effect of damaging my good name and reputation in the society" He recounted how he met Ms Nkrumah in the writ, and claimed that he had made substantial financial contribution towards the sponsorship of her education from Mfanstipim Secondary school through to the Kumasi Academy, where she had her sixth form education. Recounting some of the moves he made to save his marriage, Osei Tutu said, bent on protecting the sanctity of his marriage as well as the welfare of the two children he has with his wife, he petitioned President J.A. Kufuor on August 16, 2002 to try and caution Mr. Thomas Broni to sty off his alleged wife.
According to hi, he reported the matter to the President, because as the father of the nation he was also the appointing authority of the deputy minister and that he wanted President Kufuor to use his excellent experience as the father of the nation to persuade Mr. Broni to break up his relationship with his wife for peace to prevail.
But though Mr. Osei Tutu insist that the married Ms Nkrumah under Akan customary law with the full knowledge and consent of his in-laws, both in-laws in their defence statement filed before the court said Mr. Tutu lived in concubinage with their daughter and that he never performed any marriage rites, either customarily or legally.
They also insist that it was indeed Mr. Tutu who blighted the future of their daughter by impregnating her and that he only presented the Bible and a ring to signify his interest to marry their daughter. They also indicated that their daughter as an adult was capable of taking her own decision and should be held liable for her actions, indicating that it was naïve on the part of Mr. Osei Tutu to take his matrimonial matter to the presidency.