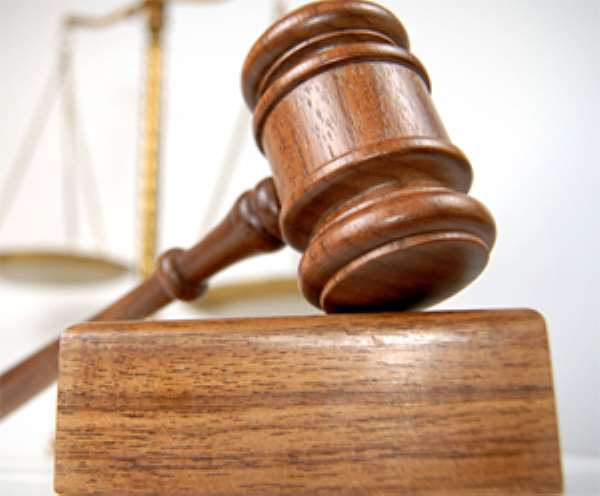 Lance Cpl Nantogmah Haruna and Detective Lance Cpl Osomi Teye Felix, have applied for bail.
The two policemen are facing trial for allegedly seizing 49 wrappers of substance from a suspected cocaine dealer, Ken Amuzu. They were said to have returned 33 - leaving the remaining six wrappers for their   personal use.
The suspects applied for bail in an Accra Circuit Court presided over by Francis Obiri, through their counsel, Prof Ken Attafuah.
According to Prof Attafuah, his clients could not have possibly committed the offence, adding that in due course he would prove to the court that it was a set-up to get the police officers into trouble.
He said the suspects were responsible persons who had fixed places of abode and would make themselves available for trial as and when needed by the court. He therefore prayed the court to grant the suspects bail.
Mr. Obiri adjourned the case to June 23 for a ruling as to whether or not he would allow the police officers to breathe some air of freedom.
They were charged with conspiracy to commit crime, supply of narcotic drugs without licence and use of narcotic drugs without lawful authority; charges they had denied.
Prosecuting, DSP A. A. Annor pointed out that the policemen are stationed at different locations - East Legon and Madina - while the accused person is a car dealer resident at Kwashieman, Accra.
He said on May 2, 2014 the officers had information that Amuzu was dealing in narcotic drugs and so they set off to Kwashieman and met the accused person there.
According to DSP Annor, the accused persons lured Amuzu to the Accra Mall at Tetteh Quarshie Interchange where one of them introduced himself as a drug dealer and then offered some substance suspected to be cocaine to Amuzu.
He said in the course of their conversation they succeeded in searching the suspect and found 49 wrappers of substance suspected to be cocaine, in addition to four rocks of the same substance.
Furthermore, he said the policemen consequently arrested him (Amuzu) and took him to the police station and handed him 33 wrappers of the suspected substance and three rocks of it.
DSP Annor noted that in the course of interrogating the suspect, it came to light that the two cops took some of the substance for their personal use.
According to him, the police officers were paraded before their commander and they admitted the offence. They then brought back the ten wrappers and one rock of the suspected substance.
He asserted that six of the substance had not been retrieved, adding that those in police custody had been sent to the police forensic laboratory for analytical test.
 BY Fidelia Achama