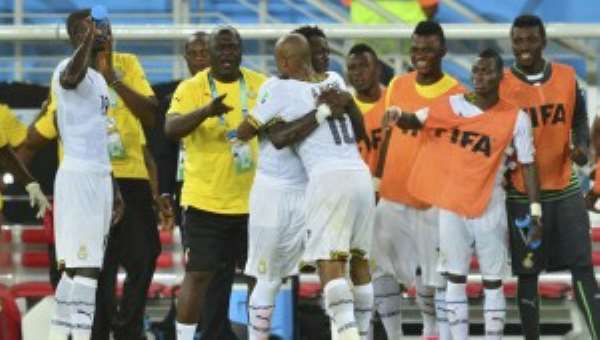 The Ghana Football Association have emphatically denied a report that there is a player revolt at the Black Stars' World Cup camp while a reporter in the centre of the affair claims he didn't file the contested report. A report by  Joy FM  news on Tuesday evening claimed such a revolt was happening at Ghana's training base in Brazil.
"We wish to state emphatically that the report is absolutely false and has no basis in fact," said the Ghana FA in a statement.
"There is no player revolt against the coach of Black Stars and no player or players have been involved in any mutiny in the wake of the 2-1 defeat to the United States. All the 23 players were present at training on Tuesday afternoon under the guidance of coach Kwesi Appiah."
According to the report, a scheduled press conference was cancelled 'due to what is reported to be a case of player revolt'.
"We wish to state that this report by Joy FM is totally untrue. The press conference, which was scheduled to take place at 11am Brazil time to be addressed by management and not players, contrary to the report, was rescheduled to 4:30pm because the squad only arrived in Maceio from Natal at 3am," the statement added.
Meanwhile, the  Joy FM  reporter in Maceio, Tony Bebli, vehemently denied ever filing the report when he was confronted by Black Stars management and captain Asamoah Gyan.
"We wish to assure Ghanaians that coach Kwesi Appiah and all his players have shifted their focus to the match against Germany on Saturday, and are keen on winning the match to revive the Black Stars' chances of progressing to the knockout stage of the competition," the statement concluded.