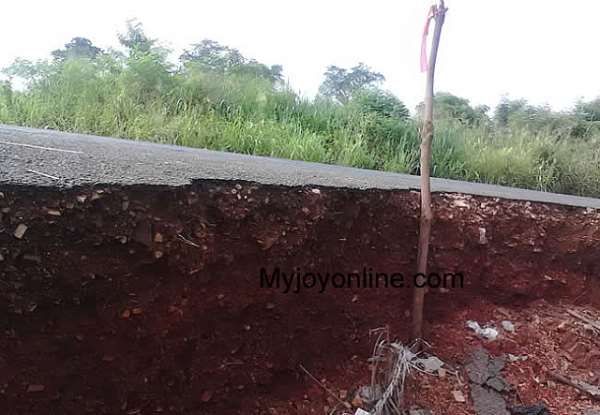 The road from Juapong to Senchi Ferry has been washed away less than six months of its usage.
The 5.9 kilometre stretch has now become a death trap as the recent rains have exposed the noticeable poor work done by the contractor, USSUYA Ghana Limited.
The road is currently being used as one of two alternatives to parts of the Eastern Region and  the Volta Regional capital of Ho in particular, following the closure of the Adomi bridge on March 10, 2014. It will remain closed until 2016.
Travelers to Ho and other parts of the country through the eastern corridor are ferried by a pontoon from Atimpoku to Akrade, where the alternative route was constructed for light duty vehicles. They will connect at Juapong to continue their journey. The other option for travelers to that part of the country is the Ho-Sogakofe road.
   
However, fast deterioration of the Juapong road has raised questions over the quality of materials used in constructing that road. Hardly can one drive for more than a kilometre without spotting a pothole.
Any attempt to skip these potholes can throw a vehicle into the gaping trenches developing along the road with some eating into one of the lanes.
It is a waiting disaster as another heavy rainfall can render it completely cut-off.
At a portion of the road near Akrade, residents have to erect warning signal made of a stick tied with red cloth to caution drivers approaching the Ferry site.
   
Myjoyonline.com sources at the Ghana Highway Authority indicate the contractor has to fix the problem since the project is still within the 12-month defect liability period.
This has reignited the debate of the lack of preparation on the part of the Ghana Highway Authority before the bridge was closed to traffic.
   
Meanwhile, the condition of the untarred road from Senchi through Fodzoku which drivers can use to connect to Akuse through the Kpong Hydro Electric dam, is getting worse as well.
Residents complain of how they are compelled without choice, to inhale heavy dust. Some said speeding vehicles get thrown off the road in attempt to apply their breaks.
   
The people around Senchi, Fodzoku and Torgorme as predominantly farmers, who also enage iin fishing along the Volta Lake.
A resident said she has had to abandon her farm located across the road because, she feared being knocked down by reckless drivers who have no regard for road regulations as well as the people living there.
   
At Senchi, the sign post erected by Right To Dream Academy to caution drivers to slow down for students crossing the road has been smashed, apparently by one of these speeding drivers.
    
  Story by Ghana | Myjoyonline.com | Jerry Tsatro Mordy|[email protected]