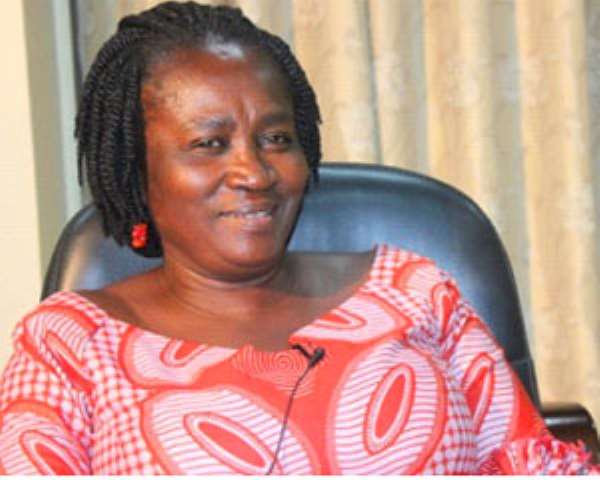 Prof Jane Nana Opoku Agyemang, Minister of Education
The Nabdam District Girl Child Education Desk has since the beginning of the 2013-2014 academic year recorded a total of 43 pregnancies with foetus growth ranging from three months to nine months.
Out of the 43 pregnant students, 30 have been registered for this year's Basic Education Certificate Examination (BECE), which begins today, Monday June 16, 2014. Seventeen of the 30 pregnant BECE candidates have delivered, with the latest delivery happening on Saturday June 14, 2014.
The Nabdam District Girl Child Education Officer, Victoria Akapame, told DAILY GUIDE that the situation is a source of worry to her and the District Education Directorate, especially when reports from some communities say some of the girls were charmed and others were lured with food and money.
Some residents of the Sekoti community confirmed that indeed some of the boys who were accused of impregnating their schoolmates confessed at separate events to have used charms to get the girls.
As to whether the pregnant candidates would be able to write the BECE on Monday, the Nabdam District Girl Child Education officer said so much effort has gone into counselling the pregnant girls and those who have delivered to enable them to confidently participate in the examination.
According to Madam Akapame, the girls would not be prevented by anyone from writing the examination. However, much would depend on the girls to ignore any attempts to ridicule them.
She said this was the only way they could go through their first stage of education to secure their future.
She noted that many parents do not monitor their children's movement and show very little concern about their development.
It is an open secret that many boys in rural areas know their way around the preparation of charms and are able to use them for whatever they desire to do or have, including girls.
It is equally an open secret that many parents in rural and urban areas in the Upper East hide behind poverty to shirk their responsibility to their children.
Unfortunately, some unscrupulous adults lure girls of such parents with food and money to get them into their beds.
In many cases, these parents do not complain even if their daughters are defiled by these adults and rather take money from them and allow them to go unpunished.
The BECE will start at all designated centres across the Upper East Region on June 16, 2014.
FROM: EBO BRUCE-QUANSAH