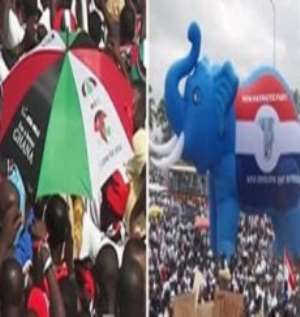 This time,we must tell the right Ghanaian story to cure all mischief and to set the records straight. Whenever our NPP friends get the least opportunity, they try creating the impression that all the projects the current administration and that of Prof Mills embarked upon were financed from loans contracted by the Kufuor administration. This assertion is inaccurate on the contrary, the NDC administration of Rawlings in 2000 bequeathed to the NPP administration, loans it had contracted to do public work. These are few of monies we left for the Kufuor administration.
Korle Lagoon Rehabilitation Project Phase 237.15 million dollars
Small farms irrigation Project 9.5 million dollars
Sogakope District Hospital 19.5 million dollars
Akwapim Ridge Water project..4.99 million dollars
Achimota-Anyinam road rehabilitation..7.0 million dollars.
Volta Lake Debris and Shoal Removal and Dredging.3.7 million dollars
National Functional Literacy project 30.2 million dollars
Economic Reform support Operations..50.4 million dollars.
I will come out with more figures in my next write up.
The point is though HIPIC wasn't there around the early 80s,the Rawlings regime could have opted for similar facilities then but the regime stood its grounds to confront those weird economic challenges head on. The regime immediately after taking over,absorbed hundreds of thousands of Ghanaians expelled from Nigeria,housed them at El wark stadium and moved them to their family homes at a very high cost.
I can also proudly mention the introduction of the policy which allowed the establishment of private tertiary institutions in the country, a policy which has widened our education net and has also reduced pressure on our few tertiary instead especially,the universities. One remarkable thing worth capturing is that policy which was termed one region one polytechnic. The government made sure every region had a polytechnic institution.
Before 1992, Ghanaians rushed to other neighboring countries to seek for greener pastures but due to prudent economic measures,the economy of the country picked up quickly making it a model for some international institutions and citizens from our neighboring states started rushing down her to seek for economic survival.