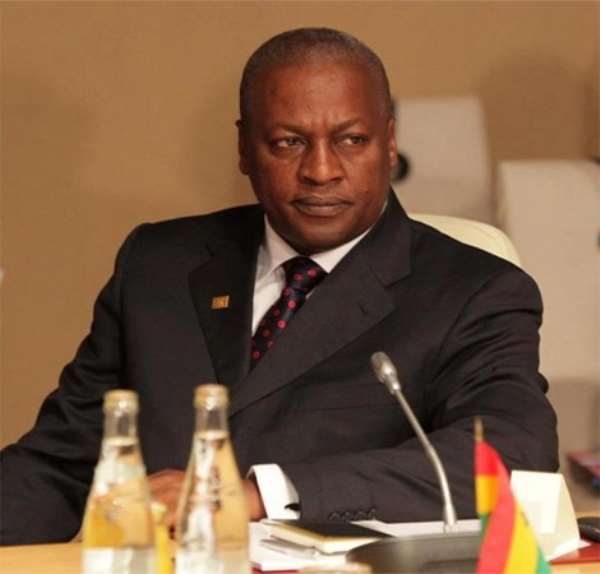 National Democratic Congress' General-Secretary Mr. Johnson Asiedu-Nketia has every right to staunchly back the ongoing ministerial reshuffle by President John Dramani Mahama. But so do members of the political opposition and the general public have an inalienable right to criticize the president, if they strongly and firmly believe that our chief-of-state has been calling all the wrong shots.
In sum, it is wrong for General Mosquito, as Mr. Asiedu-Nketia is popularly known, to presume to order the rest of the country into graveyard-silence, while the Mahama-led government of the National Democratic Congress set the country alight. We did not, as a country, vote for our elected government to cow us into silence. And if the NDC operatives are afraid of criticism, then they have absolutely no right to be in government, let alone presume to steer our dangerously listing ship-of-state.
The problem General Mosquito has here with his rather porous argument is that Ghanaians have experienced 19 years of a political culture of silence, one that was presided over by the founding father of the NDC, which effectively ground the country's economy into the silty waters of HIPC. Our elders also have a saying that if you go to a barber's shop for a haircut and you do not speak out, or instruct the barber on precisely your desired haircut, you end up all the more miserable and unhappy for not speaking out.
In other words, the overwhelming majority of the Ghanaian electorate sees President Mahama giving them a very bad haircut, and so it is only logical for us to speak out before he gives us a Gonja Crew Cut, when all we desire are some Tokyo Joe's and Dansinkrans. Obviously, the likes of Mr. Asiedu-Nketia have the luxury of adopting a wait-and-see attitude towards the apparently erratic musical chair games of President Mahama. Unfortunately, the rest of us who are at the proverbial short-end of the stick have seen more than enough of the Mahama musical chairs to pretend as if we just arrived in town.
And to be certain, the present massive reshuffling has been in the pipeline for sometime now. It has only taken this long because the President did not want it to seem as if Togbui Avaklasu was in the details. And it is not clear whether it would have made any much of a difference, being that as amply elucidated in an earlier column, the problem with the Mahama/Amissah-Arthur government is one of policy incoherence and/or the total lack thereof. In other words, it is an act of desperation, which means that it is highly unlikely to achieve much that is remarkable or meaningful.
What is wickedly ironic here, though, is that all this is happening on the 22nd anniversary celebration of Mr. Rawlings' founding of the National Democratic Congress. And so it may not be altogether far-fetched to suggest that the entire reshuffling exercise is a tactical feint, or ploy, aimed at throwing the nation momentarily off-balance while key NDC players like Mr. Asiedu-Nketia sneakily laid back and scissor-kicked their legs into the Korle Lagoon and heartily, and wantonly, celebrated the veritable funeral that is the ideological and institutional existence of the so-called National Democratic Congress.
About the only Ghanaian citizen who has been fouling the proverbial waters of governance for Mr. Mahama without cease, is the former Chairman Jerry John Rawlings, the half-Scottish waif, who has been widely criticized by both his former minions, and Ghanaians at large, for luridly presuming to envisage nothing good in the administrative style of any Ghanaian leader but himself.
Contrary to what General Mosquito would have the rest of the country believe, about the only remarkable thing about the National Democratic Congress is the scandalous decision by the Kufuor faction of the New Patriotic Party, to ensure that the NDC would not have to fiercely fight for its own keep and existence. For the Kufuor faction of the NPP, the Flagstaff House is anybody's to access, or gain a foothold of, except Nana Akufo-Addo. And it is rather a crying shame and a pity for Akufo-Addo to presume to silence those of us who are not afraid of speaking the truth, by lying through his gabless teeth about the at once immutable and ineluctable stumbling block to his determined and decidedly desperate presidential ambitions that is President John Agyekum-Kufuor.
And it is quite certain that were Dr. Kofi Abrefa Busia and Mr. Victor Owusu, the men that my dear good, old Uncle Kofi Diawuo would have us believe to have been his great political mentors and benefactors alive today, they would, not doubt, feel too scandalized to have their names associated with this irredeemably vindictive and stereotypically cunning breed of postcolonial Ghanaian leader.
*Kwame Okoampa-Ahoofe, Jr., Ph.D.
Department of English
Nassau Community College of SUNY
Garden City, New York
Board Member, The Nassau Review
E-mail: [email protected]