About 200 angry residents of Accra marched through the streets of the city to demand that city authorities rid the capital of filth which has engulfed every nook and cranny of the nation.
The demonstrators carrying placards with various inscriptions on sanitation marched to the office of the Mayor of Accra to present a petition to the government.
Unfortunately the mayor did not show up to receive their plea even though they claim the mayor was given a two week notice.
The demonstration dubbed ``Clean Ghana Now'' is the first of a series of activities by the concern residents of Accra to draw the attention of both government and citizens to the dangers pose by the carefree disposal and collection of waste especially in the capital city.
Addressing the media on the content of the petition, a member of the group, Mr Kobina Nyanteh called on the Accra Metropolitan Assembly (AMA), Ministry of Local Government and Rural Development, Parliament and the President of the republic to as a matter of urgency develop a comprehensive and decisive sanitation policy to deal with the challenge once and for all.
The demonstrators urged government to place a ban on the use of plastic and rubber bags for shopping because it is responsible for 90% of the country`s sanitation challenges.
They also called on the government to localize the collection of waste in a more technology driven manner and urged the Greater Accra Regional Coordinating Council to pay its debts on waste promptly to eliminate rubbish that has bedeviled the capital.
The concerned citizens of Accra have also reminded the AMA to vigorously enforce its byelaws on sanitation to help keep the city clean.
The group has vowed to continue to advocate using all possible means to ensure that the city of Accra becomes attractive to visitors.
They urged citizens to be alert and responsive in the management and disposal of their waste and join every effort to ensure that the nation is kept clean.
Kathleen Addy, a member of the group said the demonstration was meant to create awareness and awaken the consciousness of all citizens on the disturbing nature of sanitation in the country.
Actor, King Aboagye Brenya who was part of the demonstrators urged Ghanaians to change the negative culture of throwing away everything anywhere, saying ``let's all change our attitudes to help keep the nation clean''.
He promised to use his wide media exposure to advocate for a cleaner Ghana and urged his colleagues in the movie industry to do same.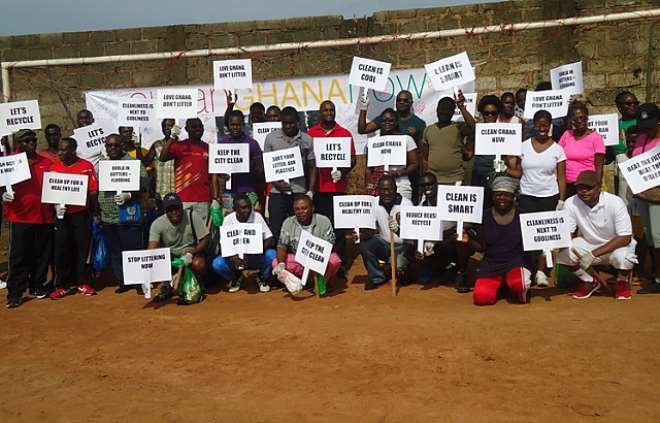 2014-06-11 230100