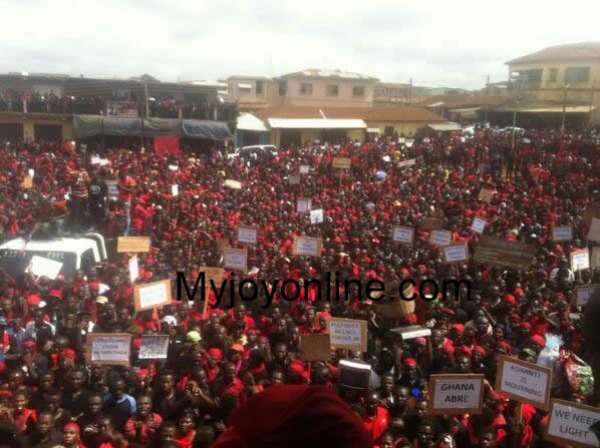 The ruling party has downplayed Tuesday's massive demonstration by the opposition NPP in Kumasi, claiming the multitudes were bused to the region.
The demonstrators came out in their thousands and in unison chanted against government policies. The streets of the Ashanti Regional Capital, Kumasi over flowed with angry supporters of the NPP who protested what they described as high cost of living forced down the throats of Ghanaians. They also highlighted what they say is the unfair targeting of the Ashanti Region by the government for the implementation of controversial policies, notably the health insurance capitation policy.
The demonstrators also demanded answers to the erratic power supply.
But Ashanti Regional Secretary of NDC, Raymond Tandoh told Evans Mensah on Joy FM's Top Story the party is "not perturbed or surprised" by the huge turnout.
He insisted that the demonstrators were bused in from across the country to the NPP's stronghold for the exercise to be a success.
"We were not worried at all," he said, "because we heard that they bused party people across the regions. The ten regions everybody has representatives here so we had a lot of buses flowing in."
However, he said the NDC was worried by the way the NPP skewed a national problem and presented it as though it was a regional one.
Mr Tandoh conceded that the entire nation is faced with power challenges, and therefore the people of Kumasi cannot claim to be the only people bearing the brunt of the erratic power supply.
In his view, the demonstrators rather indicted the regional director of Electricity Company of Ghana for deliberately worsening their woes.
But Regional Secretary of the NPP Samuel Pyne flatly denied claims the people were bused in from other regions.
With the exception of four national executives, all the picketers are residents of the Ashanti Region, he said.
 He was elated the demonstration was successful.  He said the huge turnout sent a clear message to government that the people of Ashanti Region are dissatisfied with the Mahama-led government.
Mr. Pyne said the problem of energy would be solved if the government stops what he described as "unnecessary" use of national resources.
He cautioned persons supporting the government blindly to desist else they would pay for their bad decision in future.