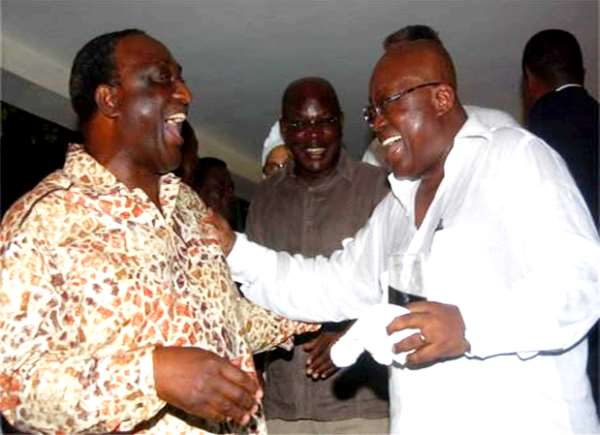 A leading member of the largest opposition New Patriotic Party (NPP) Hon. Kennedy Agyapong has slammed supporters of the two flagbearer hopefuls, Nana Akufo Addo and Alan Kyerematen, saying the bickering in the party will make it difficult to win elections.
The Assin Central Member of Parliament fumed that his party has reduced itself to a media war between followers of Nana Akufo Addo and Alan Kyerematen in the midst of the country's economic crisis which needs solution from a responsible opposition party.
Speaking in an interview on Okay Fm's 'Adeakye Abea' show, Hon. Kennedy Agyapong told the host Kwame Nkrumah 'Tikese' that it is sad nobody appears concerned about happenings in the country except the craze for power, and agreed with the position by some that the NPP has failed to offer alternative solutions to the economic woes of the country.
'If indeed the followers of Nana Addo and Alan Kyerematen want power in 2016, with this nonsense going on, they should address the problems of Ghana first before they go to radio stations to spew nonsense; that is what I will tell them. We have to be able to solve the current problems of the country but they think of 2016 elections..power, power; if NDC destroys the country now, what can you do when you finally come to power? This time, we can't go to HIPC again.
...With all these happenings, what you care most about is power. If this is how we will continue to treat ourselves in public, we will never get the power we are looking for in 2016. If you say Nana Addo should go unopposed, I disagree because democracy is not practiced that way; let somebody contest him and those contesting him should say what they can do to help Ghana and not only NPP. Again, age does not matter in this contest because President Mahama is young but his administration is more worse than the late President Mills', though he (Mills) created all those judgement debt problems,' he pontificated.