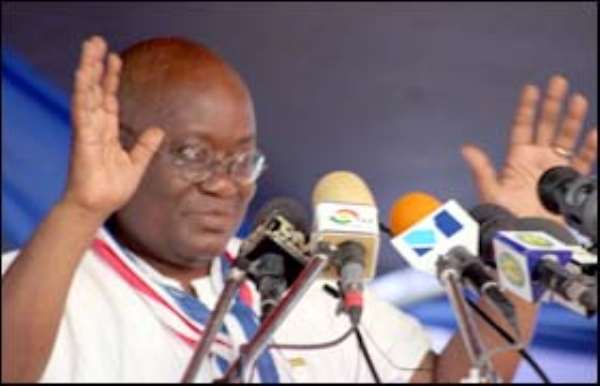 Mr Richard Kwadwo Adu, Wenchi constituency youth organizer of the New Patriotic Party has advised the party to give another chance to Nana Addo Danquah Akuffo-Addo to lead the party in 2016 general election.
He said the chances of the NPP to win the 2016 election are higher if the 2008 and 2012 presidential candidate is allowed to lead the party once again.
Speaking to newsmenin Wenchi on Tuesday, Mr Adu explained that voters especially those at the grassroots yearned to see Nana Akuffo-Addo bounced back on the NPP's campaign platform.
It will spell doom for the party if the NPP make a mistake to replace Nana Akuffo-Addo with any candidate in 2016, he said.
Mr Adu observed that 2016 is a very crucial year for the NPP, as the December general election would determine the political fate of the party and appealed to especially delegates to embrace the choice of Nana Akuffo-Addo for the party to win the election.
The NPP youth organizer observed that accusations and counter accusations among party supporters would not do any good if the party is bent on wining the general election.
What is important now is for us to come together as a party, identify and tackle the diverse problems that led to our defeat so that we will not repeat those mistakes and lose in 2016.