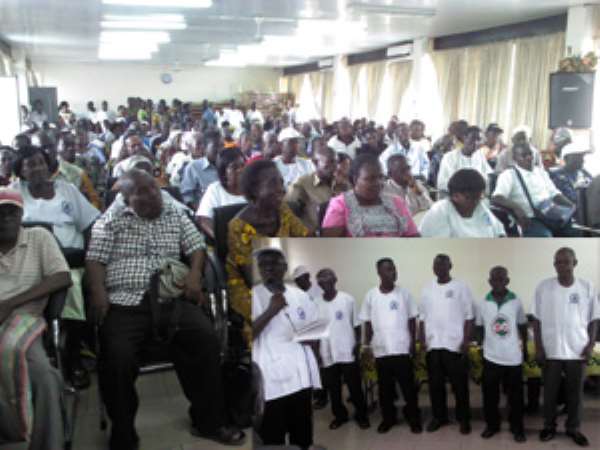 Some members of the association, INSET: The new executives being sworn into office
The Pensioners Association of Ghana has rolled out a health insurance top-up scheme for its members across the country.
Each member is requested to pay GH¢4.00 premium, which would be deducted at source into a fund.
The fund would be managed by Liberty Mutual Health Insurance;
and the project has since been started on a pilot basis as registration of the rest of the members began yesterday, June 5, and was to continue till the end of the year – except Wednesdays and weekends.
Each day 30 members would be registered until everybody had been captured.
This was disclosed by Aaron E. Ofori-Tettey, Secretary of the Eastern Regional branch of the association, at a press conference in Koforidua.
Mr. Ofori explained that the National Health Insurance Scheme (NHIA) does not cover every ailment and therefore the association considered an appropriate top-up scheme in order to take care of those ailments which are not covered by the NHIS.
He explained that pensioners who are not members of the association cannot enjoy this top-up scheme stressing, 'It is for members only."
He said non-members who want to enjoy this offer must first join the association and pay at least a year's dues of GH¢12.00 in addition to a year's premium of GH¢4.00 per month to qualify.
The top-up health insurance would spend an amount of GH¢1,000 on each out-patient annually and GH¢3,000 on in-patients.
Later in the day, the association held elections and inducted into office five people namely, George Ohene Addo, chairman (former vice chairman); Owusu K. Brempong, vice chairman; Emmanuel Kumi Sinatra, secretary (formerly assistant secretary); Stephen Okyere Kumi, assistant secretary and Adomako Amankwa, treasurer.
The five have a four-year mandate.
Only two former executives did not contest. They were A. E. Adjei, chairman and Noble Paul Asare Gyamfi, secretary.
The only female contestant, Madam Felicia W. Wemegah, who filed to contest the treasurer position, was disqualified because she did not append her signature or thumbprint her nomination form, rendering her candidature invalid per the rules of the association.
He encouraged members to be selfless and willing to serve the association for the good of all.
The new executives told DAILY GUIDE that they had accommodation challenges and pleaded with benevolent groups or persons who could offer them office accommodation – either for free or at a very reduced price - to contact them.
They also said there were disparities in their benefits with regards to the 100% increment announced earlier in the year and appealed to SSNIT to rectify the anomaly.
They appealed to the government to readjust their benefits because they were too little and could not even cater for their one-week expenses.
The secretary, Kumi Sinatra, said members had worked in the civil service just like the CAP 30 beneficiaries and therefore government should give them same privileges as enjoyed by the CAP 30 beneficiaries.
From Rocklyn Antonio, Koforidua