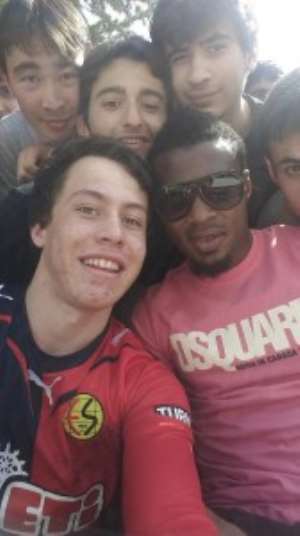 In an apparent retaliatory spiritual attack, a Portuguese witch doctor claims he caused the injury of Ghana defender Jerry Akaminko and has warned the Black Stars that two more injuries in the squad will follow before this month's World Cup.
The shocking report in the Ghanaian media comes just two days after Ghana's most powerful witch doctor Kwaku Bonsam claimed to have caused the injury of Portugal's Cristiano Ronaldo keen on preventing the superstar from against Ghana in their Group G match this month.
In his response, Portuguese witch doctor Mel Sigurson claims to have attacked Akaminko spiritually which led to his injury on Saturday that has ruled him out of the World Cup, says a report carried in Ghana.
Suspecting foul play over the unending injuries of Ronaldo, Sigurson is reported to have investigated spiritually before discovering that Kwaku Bonsam had jinxed the Portuguese superstar which prompted him to act by causing Akaminko's setback, according to the report.
"Ronaldo is a strong player, both physically and spiritually, but these injuries got me worried and at a time we are going to the World Cup," Mel Sigurson was reported to have said on Rádio Mar in Portugal.
"I discovered that some of our World Cup opponents were and am still working on the team. So I have decided to pay them back in their own coin with injuries.
"The Germans have their own share and so does Ghana who will miss three top players for the World Cup. A defender, a goalkeeper and a striker will miss out on the World Cup, since they are bent on hurting Cristiano. They touch my key men, I touch their key men."
Sigurson says Ronaldo will defy all the threats by Kwaku Bonsam to play at the World Cup.
"I don't see him playing any of the warm up games, but he sure will play in the World Cup", he concluded.
Meanwhile, Ghanasoccernet.com, Ghana's leading football news website, has trawled the Portuguese media for traces of this claim in the Ghanaian media citing Sigurson but nothing has been found yet.
Do you think this report is dodgy? What do you think must be done. Do you think this would affect Ghana players psychologically? Make your views known in the box below