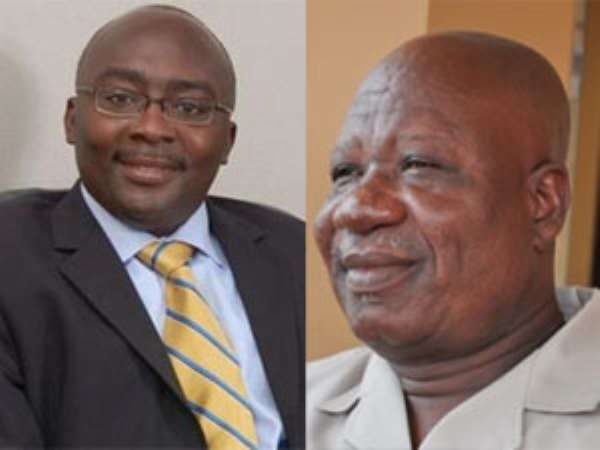 Mahamudu Bawumia and Allotey Jacobs
The Central Regional Communications Director of the governing National Democratic Congress (NDC), Allotey Jacobs, has expressed remorse over his conduct towards the vice presidential candidate of the New Patriotic Party (NPP), Dr. Mahamudu Bawumia.
He said he was humbled when former Finance Minister in the erstwhile Rawlings administration, Professor Kwesi Botchwey, extolled Dr. Bawumia's virtues when he (Botchwey) took his turn at the Distinguished Speaker lectures series organized by the Central University College on Tuesday.
Professor Botchwey, longest serving Finance Minister, had seconded the economic lecture delivered some time ago by Dr. Mahamudu Bawumia which likened Ghana's current economy to a 'boneshaker' vehicle plying a bumpy road. The former Finance Minister described Bawumia's discourse as 'brilliant and on point.'
According to Kwesi Botchwey, 'I am honoured following on the heels of Mahamudu and his brilliant lecture which stirred healthy debate on the woes of the cedi but generally on our national economy.  Most of what he said was mentioned at Senchi where we met to find solution to the country's economy crisis.'
He did not conclude his lecture without giving credit to Dr. Bawumia saying, 'Most of the things am going to say are not new from what Dr. Bawumia said on this platform. I offer no rebuttals to what he had said. On the contrary, I do agree with much of what he said and disagree with some.'
Prof. Botchwey did not join the train of criticisms Dr. Bawumia received after his prophetic lecture about the falling cedi, instability of the economy, among others, but to applaud him stating, 'Mahamudu is a young man whose professional credentials I particularly respect.'
Against this backdrop, Allotey Jacobs on Peace FM's Kokrooko programme yesterday expressed remorse for vilifying Dr. Bawumia after the latter's lecture mentioned above which made an apt diagnosis of the economy.
'After Prof. Botchwey's lecture I realized I was wrong about Bawumia,' he stated.
Conceding that Ghana's economy is in crisis, the NDC man called for a non-partisan approach to save the economy from collapse.
He described as 'unfortunate' how some opposition parties were happy about the current situation because 'we will all suffer if things get out of hand'.