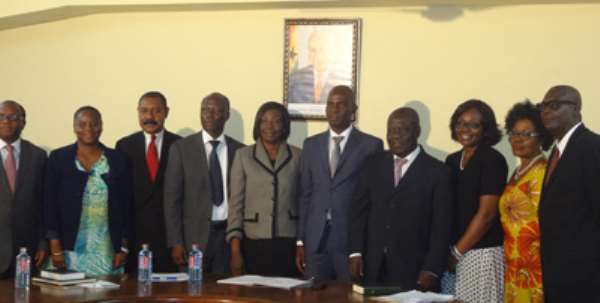 Haruna Iddrisu in a photograph with members of the GIPC board
Minister of Trade and Industry, Haruna Iddrisu has inaugurated a new board for the Ghana Investment Promotion Center (GIPC).
The event took place at the conference room of the ministry in Accra.
The members include CEO of Kama, Dr. Micheal Agyekum Addo, chairman; Deputy Minister of Finance; Deputy Minister for Trade and Industry, Nii Lantey Vanderpuye; Irene Demanyah, Gwenda Sam, Aaron Dickson and Deputy Governor of the Bank of Ghana, Millison K. Narh.
Others include the CEO of GIPC, Mawuena Trebah, Nana Obey Bonsu of Private Enterprises Federation and Dr. Regina Adutwum of National Development Planning Commission.
Mr. Iddrisu, in a remark, stated that Ghana's investment landscape and macroeconomic environment had improved over the years, adding that it was one of the best in Africa and across the globe.
According to him, at the just-ended trade policy review held at Geneva, Switzerland, which included over 13 member countries from around the world, issues were raised concerning the role of the GIPC, particularly its requirements for minimal capital investment.
In this regard, he urged the 10-member board to take a critical look at the functions of the GIPC and to see how best they could meet the requirements of investors as far as the subject of minimum capital investment was concerned.
According to him, one of the recommendations of the just-ended national economic forum was the establishment of a one-stop shop administrative center, which will help to reduce red tape and bureaucracy in the country.
In line with this objective of the government, he ordered the board to work with the Chief Director of the Trade Ministry to get the one-stop shop center.
On behalf of the board,  Dr Addo assured President Mahama and the Trade Minister that the new members of the GIPC board will strive to live up to expectation.
According to him, the board will offer support to both international and domestic investors to 'help change Ghana's development climate.'
By: Rita Oduro