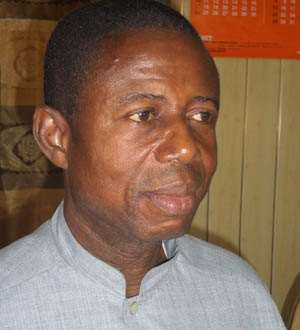 John Baidoo
John Baidoo
About 95 percent of girls in Ghana, particularly those in rural communities, miss school during their menstrual periods due to the lack of hygienic materials, inconsistent supply of water and soap, inadequate disposal and collection of sanitary products, John Baidoo, Chief Executive Officer (CEO) of Sustainable Development Focus Limited (SUDEF), a Non-Governmental Organization (NGO) has indicated.
He disclosed this during a durbar to commemorate the 2014 Menstrual Hygiene Management (MHM) Day held at Susuanso, near Yamfo in the Tano North District of the Brong-Ahafo Region for basic school children.
The MHM Day, which fell on May 28, was celebrated to raise awareness on preserving future women and girls through the adoption of hygienic practices during menstruation within the framework of the United Nations International Year of WASH and menstrual hygiene connection, 2014.
The event was aimed at improving health, performance of students and teachers through the sustainable access to safe water, adequate sanitation and adoption of hygienic and healthy practices in the targeted schools.
Mr. Baidoo said girls in their menstrual period need somewhere private to change sanitary pads, clean water for washing their hands and used cloths and facilities to safely dispose of used materials.
According to him, reports show that 48-59 percent of girls in peri-urban areas and 90% in rural areas in Ghana feel ashamed during their periods.
Menstruation, though a natural process that is part of nearly every girl and woman, is still treated as a taboo in countless cultures and societies across the globe, as it is cloaked in secrecy and negativity, the SUDEF boss said.
'A profound silence on the topic, combined with a lack of access to information, results in girls and women possessing very little understanding of their own bodies. Many are managing their periods in an unsafe and unhygienic manner, using old rags or other unhygienic and ineffective materials.
'These problems are exacerbated by limited access to and affordability of hygienic products, safe and private sanitation facilities, inconsistent supply of water for personal hygiene and inadequate disposal options,' he added.
Mr. Baidoo indicated that menstruation, if not properly managed, can result in health problems since reports have established links between poor menstrual hygiene and urinary or reproductive tract infections and other illnesses.
FROM Fred Tettey Alarti-Amoako, Sunyani, [email protected]