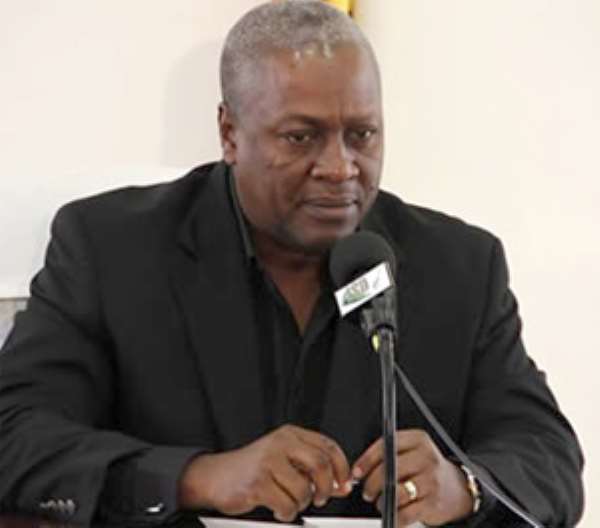 President John Mahama
Ghana's economy is in its worst moments. There is no shortage of cynical descriptions for the debilitating state of the country's self-inflicted fiscal morass.
A number of factors are responsible for this avoidable syndrome even as state players pretend not to know them.
A recent national economic forum attracted vitriolic remarks by critical observers, who saw the engagement as nothing but hypocrisy of the highest order at state level – a sentiment we dare not deny.
It is amazing how in the face of the challenges wreaked by outright mismanagement and bad governance, government would continue to engage in acts of economic irresponsibility in total disregard for the tenets of fiscal discipline.
Despite the facts on the ground, former President Jerry Rawlings in one of his many recent displays of ignorance or perhaps misdirection of blame, traced the present economic ailment to the NPP government.
If only he could muster courage to tell Ghanaians how history is repeating itself: his so-called revolution during which many innocent lives were lost, was triggered by what he himself diagnosed as economic indiscipline.
It is a de-ja-vu: the country has gone full cycle but unfortunately, Rawlings is unable to come out boldly and loudly to state as he used to do, his unbridled impression about the true state of Ghana. He is too weak, morally, to see the similarities between the factors which led to the so-called revolution of which he played a pivotal part and today's realities.
Even as we lick our wounds from the many instances of economic frauds engineered by persons at the helm of governance, more such bad actions continue to be unleashed.
The latest act of economic nonsense is the Subah case.
It is so bad that we had to tarry a while to catch our breath and control the adrenalin level when the whole picture was laid out.
As a case shrouded in financial rot, it is unfathomable how those entrusted with the task of managing the country would be so apathetic as to act the way they have done in the Subah case.
After the hue and cry and an eventual empanelling of a committee to probe the payment of so much money for an ostensible monitoring of telecommunication traffic flow – with a view to ensuring that Ghana got its right due – the verdict has come, expectedly tainted: Subah is exonerated and the payment of GH¢74.3 million for the execution of the contract was justifiable.
We are constrained to recall the Gyeeda and SADA stories and the demeanour of government and its subsequent empanelling of committees to probe the scandals which enveloped them.
The outcomes have followed a similar trend, weak and mendacious.
The remarks of Information Minister – the position of the Presidency of course – and the outcome of the technical committee on Subah explains it all: 'If telecos want to help Ghanaians, allow Subah to install electronic devices that can do real time monitoring of the communication time tax.'
He continued, 'No amount of verbose writing by either telecos or Ghana Telecommunications Chamber can stop us from doing that.'
If this does not expose government's complicity in the Subah imbroglio, we do not know what else does.
We hasten to point out that the unfolding scenario puts government in a bad state, especially as it unleashes state-sponsored propagandists/hounds to attack the integrity of personnel of telecos and others associated with the anti-Subah crusade.
There is every reason to be amazed that a contract, which was signed in 2010 had the law backing it come into being three long years afterwards.
The terms and conditions, including the foreign call segment, are further evidence of how bad the whole deal is and how this represents another instance of payment for no work done.
We find it worrying that telecos have not been served with copies of the technical committee's report so they can react to the contents.
Details of what percentage of money gained from the transaction by Subah that is being paid to government is still shrouded in secrecy; and we are hard-pressed not to conclude that this is a deliberate act of concealing telltale details as propagandists get busy.