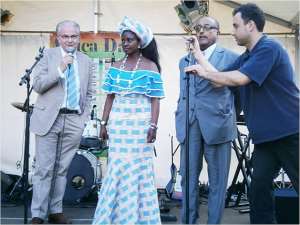 Ghanaians and other African Nationals in Hamburg and beyond wore traditional attires depicting the true value of African culture, assembled at Wandsbeker Platz, (Hamburg's most prestigious gathering Square) to observe African Union Day in grand traditional style, amidst Cultural drumming and Dancing, parade of various countries flags, live band, African food services and many more.
The opening address was presented by Madam Sylvaina Gerlich who doubles as the leader of Intercultural Migrant Integration Center (IMIC) - an established social NGO in Hamburg; Member of the Hamburg Integration Council (Representing Africa) and also the program creative director.
"Africa today celebrates the founding of the Organization of African Unity (OAU) which occurred on May 25, 1963. There were 30 independent African nations that signed the founding charter in Addis Ababa, Ethiopia. In 2002 the organization was renamed the African Union(AU), and now has 53 members that represent all the independent countries that make up the continent". Madam Gerlich explained.
Mr. Maxwell Nkrumah, the co-organizer stated "The objective of this celebration is to celebrate the achievements of African people and businesses that have brought pride to the continent, and inspire Africans globally to strive daily for distinction through ethics and diligence".
In Ghana and other African countries, the day was declared a statutory holiday.
The special guest of honor was Hon. Rashid Pelpuo - Ghana's minister of state in charge of private sector Development.
In his addressing speech, he explained how Africa could overcome its economic challenges to support the growing youth population.
"Our economies in most of Africa are weak, basically dependant and with heavy reliance on the export of primary rather than secondary exports. Imports outstrip exports and the various countries keep recording deficits, both in our balance of payments and in our budget and mostly financed by loans from the multilateral and bilateral sources. The fact that African countries depend largely on foreign funding of our budgets makes the economies painfully vulnerable". Mr. Pelpuo in a lecturing manner explained to the audience.
He further continued that, In order to overcome this vulnerability, African countries must overcome the challenge of restructuring their economies and be net exporters of processed value added goods.
The honorable minister swiftly used the platform to implore business owners to invest in Africa, precisely in Ghana where the Private sector is recognized as key in the development of the economy and investors are however encouraged to invest in areas such as power, railways, the ports, housing, roads in the form of partnership with government.
Other academically personalities and professionals within the program included, Dr. Med. dent. Victoria Manu - a prominent renowned dental specialist based in Hamburg, who also had the opportunity to address the gathering about the importance of formal education.
In presence also were prominent leaders of German political parties in the persons of: Senator a.D. Dietrich Wersich (CDU Group Chairman), Thomas Ritzenhoff (SPD- District Major of wandsbek), Katja Suding (FDP Group chairperson), Michael Sarach (Major-city of Ahrensburg) all of southern sector of Germany.
Others were: German international media, Representatives from various associations, Ambassadors and consuls of various African countries, African Traditional Chiefs, Reverent Pastors from Hamburg and far, and many more.
Finally, the ceremony master- DJ Daddy Boat with spontaneous applause by the Audience, invited His Imperial Highness Prince Dr. Asfa-Wossen Asserate from Ethiopia to perform the closing ceremony backed by prayers from the servant of God - Right Rev. Pastor Mathew Akanbo of Action Faith Chapel - Hamburg.
Last but not least, Frank Heinrich - member of advisory board (IMIC) wishes to thank all various persons, enterprises, etc whose generous contributions, efforts etc have made the Africa Day a big success.
The entire atmosphere described itself and that reminded me of an old adage that states "A Nation That does not Honour its Heroes Is NOT worth Dying For"
God Bless our Dear Continent Africa, Long Live Africa Union.
Long Live Sylvaina Gerlich (IMIC)
Mensah Dekportor (Hamburg)
Email: [email protected] Tel: +49 (0)15218405629

2014-05-29 231926

2014-05-29 232014