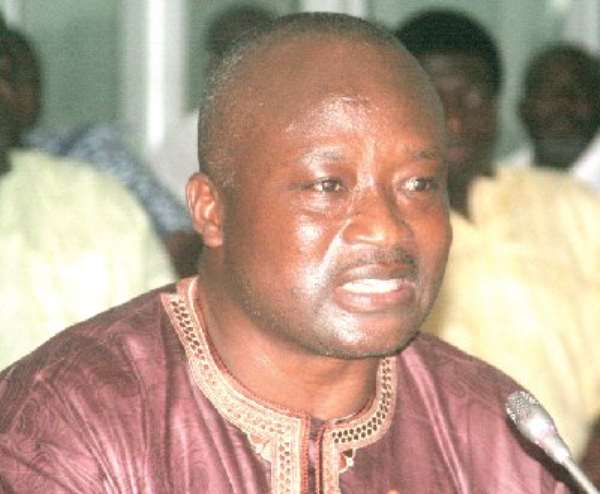 Mr Justice Samuel Adjei
Mr Justice Samuel Adjei, Deputy Brong-Ahafo Regional Minister
Kumasi, May 29, GNA - Mr Justice Samuel Adjei, the Deputy Regional Minister for   Brong-Ahafo, has performed a ceremony for work to start on the construction of a GH¢ 250,000.00 sanitation complex for the Sunyani Senior High School amid fanfare.
The project would have 24 water closet toilets, changing rooms for athletes and a gymnasium.
It is being funded by the Ashanti Regional branch of the School's Old Students' Association (SOSA) through contributions from members at home and abroad and is scheduled to be completed within two years.
Mr Adjei said it was the government's aim to improve education at all levels through quality teaching and learning to boost national development.
He said it was important to nurture the potentials of the youth and equip them with skills not only to secure them jobs in the future but also to help provide a strong and vibrant human resource base.
The Deputy Minister, an alumnus, renewed the appeal to civil society organizations (CSOs), non-governmental organizations (NGOs) and philanthropists to partner the government to support education.
Dr Emmanuel Opuni Frimpong, Chairman of the Association, said the urgent need for toilet facilities on the compound informed the decision for the project.
He said an initial sum of GH¢ 35,000.00 had been raised to fund its take-off.
Dr Frimpong, a Research Scientist at the Forest Research Institute of Ghana (FORIG), at Fumesua near Kumasi, said the association felt gratified to give back to its alma mater which has churned out high level manpower cutting across all professions.
'We are scattered across both home and abroad practically living out the school's motto, 'ME MAN NTI, ENYE ME NTI' (to wit I live not for myself, but for the good of my country),' he said
Madam Georgina Boakye, the Headmistress, thanked the old students for always responding to pressing needs in the school and urged all old students sitting on the fence to get on board.
GNA