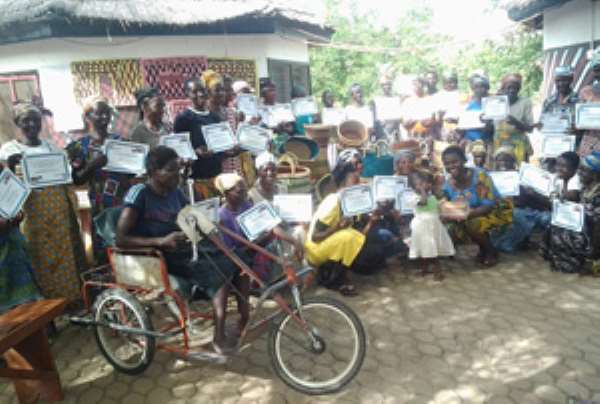 A section of the Artisans at SWOPA
A section of the Artisans at SWOPA
Poverty can be alleviated in the three Northern regions if the handiworks of the people are appreciated and patronized, Director of Sirigu Women's Organization of Poetry and Art (SWOPA), Bridget Adongo, has said.
Speaking to BUSINESS GUIDE in an interview at Sirigu, Ms Adongo said the poor patronage of handiworks had compelled many artisans to either ignore their trade or reduce production.
According to her, many of the youth had abandoned the industry and joined their counterparts to look for employment elsewhere.
'Many years of experience and capacity building to enable artisans to meet international standard is almost becoming a waste. Many of the people in this industry are giving up due to the lack of marketing opportunities. In the past children learnt from their parents, but now we don't see that happening. The creative industry may collapse if the situation continues.'
Bridget Adongo disclosed this at the end of a six-week training for some 35 women in pottery, wall painting and basketry at Sirigu in the Kassena-Nankana West District.
Trade Aid Integrated, a Non-Governmental Organization (NGO) in Bolgatanga, partnered SWOPA to organize the training.
Mrs. Adongo said the training was aimed at sharpening the skills of the women to enable them to produce standard handiworks.
Other women, who did not participate in the training, are expected to learn from the participants.
'We were able to train only 35 women out of a group of 340 women, this number is far low, but we had to do so due to lack of funds. Those left out could not also pay for their training because people are not patronizing their wares.'
The Director of Trade Aid, Nicholas Apokera, said his outfit believes in using enterprise development to alleviate poverty in the Upper East region, adding that Trade Aid was working hard to develop the creative industry in the region.
According to him, some women who were trained some years ago had improved their livelihoods.
Unfortunately, many men have ignored the venture and are currently looking for non-existing jobs.
From: Ebo Bruce-Quansah, Sirigu