Veep did not receive low reception in the North - Botwe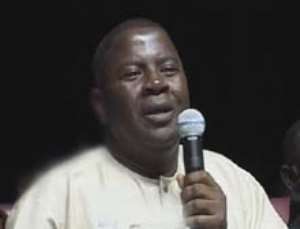 Busunya (B/A) April 28, GNA - Mr. Dan Botwe, NPP General Secretary has refuted claims by a section of the Ghanaian Press that, Vice-President Aliu Mahama received low reception during his recent official tour of the three northern regions. Addressing a durbar of chiefs and people of Busunya in the Nkoranza district as part of his four-day tour of Brong Ahafo, Mr. Botwe, member of the Veep's entourage on the tour said the people and members of NPP at Kpandai, Salaga, Damongo, Bole, Bamboi and other places where the Vice-President visited accorded him warm reception befitting his status. Mr. Botwe wondered why some newspapers should publish "blatant lies, ostensibly to throw dust into the eyes of the general public" and advised that it was time editors refrained from such "cooked and destructive stories" just to sell their papers. The General Secretary commended Mr. Kwame Ampofo-Twumasi, Nkoranza district Chief Executive, who is the Party's 2004 Parliamentary candidate for Nkoranza for his good job in the area. "Your DCE is counted among the hard-working DCEs in the country", he said and thanked the people for supporting him and asked them amidst deafening applause, to vote massively for him in the Parliamentary elections so he could work to achieve more for the district. Mr. Botwe debunked the call by some supporters of the NDC on the people to vote the party back to power, as according to their slogan, "Sankofa", saying:
"Anybody with good principles would know that it would be suicidal for NDC to be given the mandate again, taking into accounts the air of freedom that the good people of Ghana are enjoying under the NPP administration".