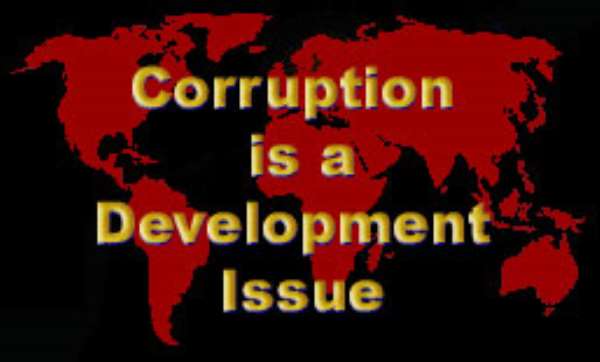 Accra, April 28, GNA - Speakers at a symposium organized by the Ghana Integrity Initiative (GII) on Tuesday raised concerns about the level of political corruption in Ghana and its likelihood to undermine the country's democratic processes and the rule of law.
The panellists at the symposium on: "Political Corruption in Ghana" said government should put in place measures to strengthen anti-corruption agencies, enhance the education of civil society organizations and streamline political party financing in the country.
The speakers, drawn from different independent civil society organizations and the academia based their presentations on the Transparency International's (TI's) "Global Corruption Report 2004" with special focus on political corruption on the need to stem political and electoral corruption in the country.
Dr. Audrey Gadzekpo, a member of the GII urged the media to play an independent and critical role, both in election campaigns and in the broader political process saying that the various political parties and candidates should be provided adequate access to the state-owned media. The state-owned media, she said must strive to achieve a balanced coverage as well as integrity in the discharge of their duties.
Dr. Gadzekpo advocated a "conflict of interest" legislation to prevent political control of the public and private media and bias in the coverage of political issues.
Professor Emmanuel Gyimah Boadi also a member of GII said the elimination of political and electoral corruption was crucial to many new democracies since it had the tendency to destabilise.
He called for measures to curb the role of private organizations providing resources to political parties, candidates and elected officials as a means of gaining political favour.
Public oversight bodies, he said should be sustained to effectively supervise the observance of regulatory laws and measures.
Pro. Gyimah Boadi also called for the strengthening of civil society to actively participate in promoting effective legislations to monitor political party finance and its impact on political representation. Dr. Gadzekpo launched a Quarterly Newsletter, "GII Alert" at the forum.
Also present were representatives of the various political parties including the New Patriotic Party, National Democratic Congress, National Reform Party and the Great Consolidated Popular Party.