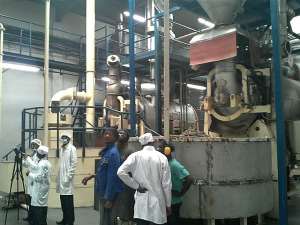 Axiom: Ghana is seen by outsiders as a stable Democracy, country with high GDP rate and peaceful country. These are no assests Ghana can make money with and develop its future.
Branding Ghana as a Country of Success
A product or country is only as successful as what the people think of it regardless of it's quality and qualification (Marketing is superior to the product or service itself; see Coca-Cola, Red Bull and alike) The core of Ghana are Coca Beans as Gold, Oil, Gas, Bauxite etc. will disappear one day.
Portrait Ghana as the best country in the world producing Chocolade Products. In line with that you can sell all other products such as pineapple in cans, Shisha from Coconut Shells, Shea Butter etc. as the consumers worldwide will know that Made in Ghana means excellence in products and services at affordable prices going the extra mile of creativity and vast culture. Exports in Ghana are suffering mainly in Europe and America as noone there knows Made in Ghana as a Brand Name.
(Made in Germany was forced on the Germans by the British Allies after World War II to let consumers know they buy products from ex-Nazis not realizing by efforts of Germans it became the best marketing tool possible for portraying Quality and Innovation)
Focus of Success for Ghana Economy
As national resources in Ghana soil will eventually by time vanish, the focus of the new economy must be Human Intelligence
Ghana: Financial Centre of Africa
Many financial Centres (New York City, London, Frankfurt, Singapore, Hong Kong, Switzerland, Luxemburg, Lichtenstein) dominate the development of their regions and influence the development of the world. Ghana can be such a Centre for ECOWAS, Africa and as a Hub linking up with other financial centres. A special Enclave should be allocated with special laws and regulations where all Banks and Financial institutions work side by side (a new city).
Learn from Singapore's history and do it before other African countries will do it ! Ghana: Logistic Centre of Africa
The strategic location of Ghana makes it possible and realistic to develop the country like Singapore into a Logistic Hub / Centre for ECOWAS and beyond.
-1- Ghana: Brainpool for Africa and beyond

Know-how is the tool of success for modern economies. Chinese spy into private US companies to steel their ideas. War between developed countries is fight for the best ideas undertaken in various ways in the shortest possible time.
Ghana must establish a National Centre for Human Intelligence
1.) Access must be possible for all people regardless of Academic Qualification as school and
university drop-outs (Bill Gates, Mark Zuckerberg etc.) need to assist the new economy with ideas
out of the box.
2.) International Scholars must be invited for exchange of ideas and initiatives taking minutes of meetings to make it by time a record / library of human knowledge and wisdom (Karl Marx was not
inspired with Communism but after many years of studying at London University books about
various subjects wrote finally his findings in his famous book " Das Kapital / The Capital" by which
history was implementing Communism not in an industrialized but agricultural dominated country)
3.) The Institute must work as a Laboratory for testing new ideas in business, administration and society affairs. By time a new concept of humanity can be written taking the lead in human development.

Ghana: Home of Best Chocolade in the World
Ghana is the home of chocolade and as everyone around the world regardless of race, age or social standards enjoys these products. Ghana can promote itself by increasing yields and quality consistently further attracting Foreigners to see what is going on on the ground in Ghana in a new to establish project "Chocolade City", various internationally marketed festivals of Chocolade, increased numbers of small countrywide small manufacturers to exhibit the great varities possible and make a "Route de Chocolade" to tour the country like "Route de Vine" in France.
Ghana: Service Centre Africa


As raw materials are getting less by time, service is increasing and needs to be exploited with phantasie and clear determination.

Ghana: Home of Industrial Innovation
Do not invent the wheel once more but improve on it. Develop the culture of copying for standard products and services and use the extra revenues and economic success to invent new products and services needed around the world ensuring to address current and future problems.
Recognize your strenght in the innovation coming from your cultural background to be different.
As raw materials will be found more and more on the surface of earth and less in the soil of Ghana, find intelligent ways to use them always for various products and excide the technology invented by the White Man.
Requirements for Success

-2- Leadership
An Economy depends on people as private individuals and business as well as state leaders. Integrity, honesty, reasonable risk taking, social responsibility, visionary besides creativity must be essential characteristics of a Society Elite of Excellence (it is the basis for the economy focus stated above).
A Constitution is the agreement and reflection of a society of a certain country which must be designed and revised when necessary to be an open and transparent basis for a well advanced society with a excellence in economic standards.
History proves this can never be achived by the countrymen itself but need significant influence from
outside to blend various dynamic and successful approaches (USA, Canada, Brazil, Singapore etc.).
Education
Education (based on the right Mentality of it's people) is the Key for a country's success in the global
village as Africa is currently loosing workplaces to Asia.
School Education
All forms of Education must be free and entirely based on individual qualification
As humans are different in their intellectual capability the Education System must stimulate
Excellence and create a socially responsible Elite that later in life has to assist the less privileged not to be forgotten in the economic and society development.
Competition and rewards must be the pillar of Education to encourage humans to bring out the best in them.
Professional Education
Dual Apprentership accordingly to German Model
Training in private and Government owned companies or Government bodies for a period of three years paid by the Employers with a small financial compensation for the Trainee in Practise and Theory (alteration of 6 weeks in the company and 6 weeks in school) based on a agreed exact training plan by Chamber of Commerce, Education Ministery and the Industry with Examination taken at end of Training.
State Professional Training
For dropouts from Schools or pupils not able to find in the Private and Government Sector Professional Training to ensure everyone will get an appropriate professinonal education not to fall on the Social System in years to come
Academic Education
University must be free and access only based in qualification with an entrance test to evaluate
candidates that might not have previously acquired formal school education alike formally examined pupils from public and private institutions.
To achive extraordinary Excellence in Academic and Applied Sciences a Elite University like Sorbone / France, Harvard and Yale or MUT / USA or Cambridge and Oxford / UK is essential to
-3- lead the Graduates and form future Top-Class Scholars as well as Business and Society Leaders.

The Academic Elite must know its responsibility for the society and assist the society to develop
for which their Curriculum must include insight Know-How of Philosophy, History and Politics besides their main subject chosen.


Dreams are an inspiration, Success is hard work !
Author/copyright: Dipl.-Pol. Karl-Heinz Heerde, 151 A, 4th
Avenue, Greda Estate, Teshie-Nungua, Accra,
Ghana, phone 00233 265078287, [email protected] or [email protected]