PRESIDENT MAHAMA MUST APOLOGIZE TO GHANAIANS FOR HIS DIVISIVE COMMENT IN KUMASI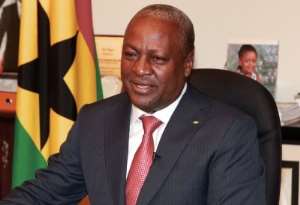 Ghanaians have had a bitter taste of unmeasured, abusive and divisive presidential comment of our time. In his real nature of disrespect for citizen's right and dignity, President Mahama stood before the people of Kumasi and spat on their faces by calling them ungrateful. This is surely, not presidential, unacceptable and understandably wicked. The least that must reasonably come forth from President Mahama is an unqualified apology.
This advance-planned package of insensitivity from President Mahama has come as the President's response to citizens' worry and genuine discontent for stagnant development and ever-rising high cost of living in Ghana. Strangely enough, President Mahama thinks he has right to worry about citizen's constructive criticism of him, but he somehow cannot stand the peoples take on his incompetence and mismanagement. That is a mark of intolerance on the part of President.
We are baffled by the desperate attempt by government's communication to mislead the citizens on the President's own voice, by doctoring the said tape and creating an impression that someone else did it. This act is simply laughable and the Ghanaian people won't fall for it. The security agencies should look no further. The Doctored tape came from the government officials and its allies and not the Ghanaian media. We are challenging government to make available the video recording of the President's visit to Ashanti Region.
What John Mahama does not seem to get is that, we, the people have restrained ourselves in the ugly face of corruption and hardship, and the ND's naked hatred for section of Ghanaians. We have upheld discipline and dignity under the current governance style of people with incompetence and inconsistency tied up in their genetic make-up. It is important for John Mahama to focus on real rebuilding of Ghana, getting our country from hardship and economic crisis, and ensuring unity and harmony among the citizenry.
We strongly believe the Ghanaian people deserve unqualified apology from President. The People of Kumasi deserve some respect from the Presidency.
God bless Ghana. Thank you.
NPP YOUTH FOR 2016
Barima Sarpong 0232564800(coordinator)
Forster K. Atigah 0266000881/ 0267448068(Volta Regional Rep.)