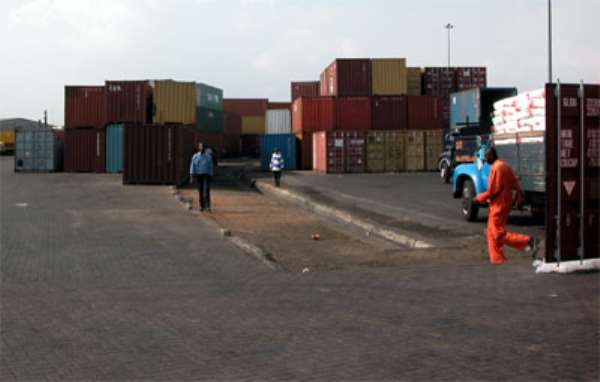 Accra, April 26, GNA - Professor Christopher Ameyaw-Akumfi, Minister of Ports, Harbours and Railways, has given a two-week ultimatum to importers, who have left their goods at the Tema Port for long periods due to one reason or the other, to clear them, or face sanctions from the Ministry.
He said that after the date the containers, some of which have been left at the Port for a period between two and five years, would be opened and the goods in them auctioned to the general public. Prof Ameyaw-Akumfi gave the ultimatum in Accra at the weekend, at the re-launching of Dashwood Stevedoring Company Limited, a Tema-based stevedoring company.
Dashwood, which started as a clearing and forwarding company, was given a licence by the Ghana Ports and Harbours Authority (GPHA) two years ago to provide stevedoring services.
The Minister explained that the Tema Port was gradually becoming congested and the measure was to help to decongest the Port to enhance its smooth operation.
He appealed to the various stevedoring companies to assist to decongest both the Tema and Takoradi Harbours within the shortest possible time.
Prof Ameyaw-Akumfi noted that liberal market system, which would be implemented at the country's ports, would go a long way to enhance efficiency in the clearing of goods to forestall congestion.
He asked the stevedoring companies to brace themselves up for the liberalized market system at the country's ports to be implemented presently.
Mr Thomas Tettey Addy, Chief Executive of Dashwood, said the company had successfully carried out its duties under the current controlled market system as provided by the GPHA in the past two years.
He explained that as part of its privatisation efforts to make the Port more efficient GPHA intended to liberalize the market system. As a result, he said, his company found it expedient to reposition itself to continue to provide quality service to its clients. Professor Frimpong Boateng, Chief Executive of the Korle-Bu Teaching Hospital, who chaired the function, expressed the hope that Dashwood would work hard to continue to provide efficient services to its clients.