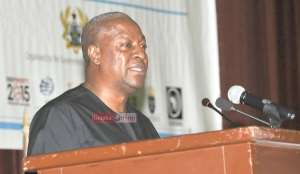 A recording in which President John Mahama's voice was heard saying that Kumasi residents will not appreciate the government's efforts even if their streets were paved with gold, has turned out to be a doctored version of what he said.
The original voice recording has the President saying that no matter how well the ruling National Democratic Congress does with national development, including tarring all the roads in Kumasi in gold, some people would never be pleased with it.
The President was in Kumasi as part of a three-day duty tour of the Ashanti Region.
Listen to the original audio:

The doctored version, which played on a number of radio stations on Tuesday, had the President saying that the people of Kumasi would never appreciate the efforts of the NDC even if it covers roads in Kumasi in gold.
Listen to the doctored audio: