Mahama's comment about Kumasi not far from the truth – Ayariga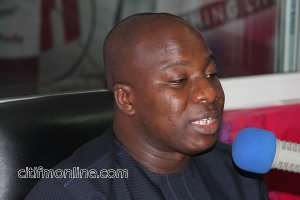 Minister of Information and Media Relations, Mahama Ayariga, has defended President John Mahama's purported comment which suggested that residents in the Ashanti Region are unappreciative of government's effort to develop the region.
According to him, the President was only drawing attention to the attitude of Ashanti's towards the National Democratic Congress (NDC) government.
The President during his three-day visit to the Ashanti Region over the weekend addressed teeming supporters of the NDC at the office of the Ashanti Regional Coordinating Council.
In his address, he said: "Planes can land morning, afternoon and evening at the [Kumasi Airport]; we have also brought in new equipment to manufacture shoes for soldiers [at the Defence Industries Holding Company Limited (DIHOC)]. But there is an Akan proverb which says no matter how nice the dance of the fowl is, it never impresses the hawk – when the fowl dances for the hawk, the hawk never finds it beautiful."
He went on to say, "don't let this deter us because for you in Kumasi, even if we construct roads tarred with gold, you will still say we've done nothing."
The Ashanti Region is widely recognized as the stronghold of the New Patriotic Party (NPP) whereas; the Volta Region is seen as the stronghold of the NDC.
Mr. Ayariga in his defence said: "The President has said it in the best way he could. I think that, what the President said [is about] our attitudes sometimes and this is specific to some political groups; the attitude of never appreciating anything good done by opponents."
According to him, political opponents in Ghana largely never appreciate and acknowledge efforts made by ruling governments and "I think that it's been an age-old [phenomenon] by the different political groups never to appreciate anything good done by political opponents."
"I think it's applicable to strongholds of different political parties," he told an Accra based Joy FM.
He continued saying, "it is this culture of just refusing to recognise anything good in what political opponents do that the President was clearly decrying."
Mr. Ayariga admonished Ghanaians to change their attitudes and "let's be fair in our assessment of political opponents, whether NDC or NPP or CPP."
The President's alleged comments have been seriously criticised by the people of Kumasi while some have also taken to social media to express their displeasure at the development.
By: Evans Effah/citifmonline.com/Ghana