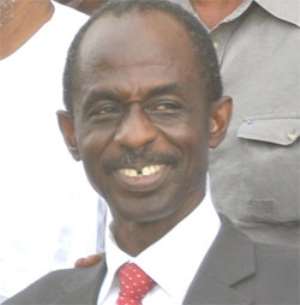 We are unable to establish whether the proposal by the NDC General Secretary, Johnson Asiedu Nketia, that we resort to the Heritage Fund to shore up the depleted national purse is shared by government.
We pray that this position, outrageous as it stands, is not the position of the government as that would further reduce the esteem of those at the helm of state and underline their degree of desperation.
Be it as it may, we are tempted to believe that it is a subject being thrown up to determine how popular or otherwise it can be before the next move.
Since the obnoxious proposal went onto the airwaves and indeed made the newspaper headlines, there have been many interpretations – all which by and large border on the fact that the proposal is not amenable to Ghanaians.
The reason people do not find the proposal welcoming and exciting is that the fear that what is so withdrawn from the fund would suffer the fate of previous withdrawals from the State kitty is overwhelming.
Besides the foregone, another school of thought has posed the question: Why should this critical savings from our oil sales be the subject of the caprices of a few?
This way, what had been securely confined to a repository outside the fingers of persons lacking in trustworthiness would be abused full time, plaintive remarks notwithstanding.
The fact that we should even be thinking along the lines of dipping our hands into the Heritage Fund is itself scary and provokes various thoughts about the state of the nation's health.
Perhaps the eye-opening fact emanating from this nation-is-broke brouhaha is that at long last, the argument put forth by one of the Deputy Finance Ministers sometime ago to the effect that Ghana is only suffering some challenges and not economic crisis, was nothing but an insulting propaganda.
Observers who were worried about how natural resources have turned curses to the countries they are endowed with, alongside the debilitating Dutch Disease, rightly decided upon the earmarking of part of the dividends from the sale of such resources for a heritage fund. Norway and others have followed this trend, avoiding thereby the resource curse and Dutch Disease.
We shudder at the thought that we are close to damning the consequences and opening the treasure box out of a spasmodic response to a self-inflicted injury in total disregard for the factors which informed the adoption of the module.
We are elated about the responses so far and wish to add that should government turn to Parliament where the number game can be employed, to dip sticky hands into the fund, we would have done the nation one of the most grievous economic harm. Posterity we know, would not forgive us if we dared tread that path.