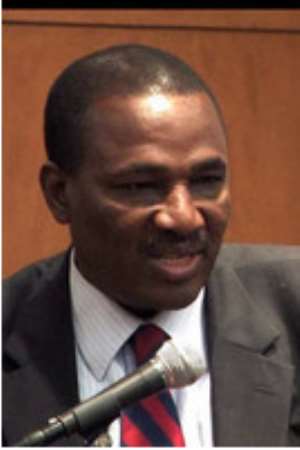 The vacuum created in the Nigerian Aviation Ministry by the resignation of Mrs. Stella Oduah as the Minister and the politics of who now will occupy her position from Anambara State has necessitated this piece.
The situation of Nigeria is for those with conscience sickening and incredibly inexplicable. As a patriot, I am worried and disturbed at the high level of moral decay in our society that has induced many of us to praise criminals and mortgage the future of our children and generations unborn because of a token or a political appointment while relegating those who really deserve such glories.
I have watched the development of events regarding the aforementioned minister's position with keen interest. Ordinarily I would not have been concerned about who President Jonathan appoints especially since all the names rumored so far are all capable hands. But for the self-evidence of some unscrupulous elements who are dubiously scheming for advantages by peddling injurious lies against the good works Dr. Jerry Ugokwe did in Austria, I have been irredeemably condemned and my conscience prickled restlessly enough to hurriedly squeeze out time as an outspoken concerned citizen and state the obvious fact before it is too late that contrarily to their reports, Dr. Ugokwe was a blessing to Nigerians in Austria. His performances were powerfully evocative and of haunting memories to be emulated. He was held in a very high esteem as a true leader.
Exposed: Why Dr. Ugokwe was re-called as ambassador. The genesis and the summary
It is disheartening to note that it is in the character of some people to condemn what they know little or nothing about, and that is why many perish out of ignorance or greed.
The genesis of Dr. Ugokwe's recall was that he was fair to his subordinates and executed the duty under his constituency honourably in a way any diplomat from developed countries like Great Britain, the USA or Germany would have done, i.e. the interest of the country and the citizens first. It was a very courageous and commendable development that is not associated to many Nigerian leaders, and obviously that did not argue well for those who wanted to bend him to unjustly sacrifice Nigerians in Austria on the alter of their self-interests. And as a result of their failure to achieve that frustration set in and their spiritual realm of evil and suffering was let loose under a unified song "Ugokwe must go".
Before the coming of Dr. Jerry Ugokwe as Nigerian Ambassador to Austria in 2008 the image of Africans particularly Nigerians was so bad that every black person on the street was suspected to be a criminal or a drug dealer and would be the first to be arrested within the scene of any crime. It was a build-up that manifested in full force on 01.05.1999 after Nigerian asylum seeker Marcus Omofuma died a cruel death in the hands of the Austrian police. With adhesive Omofuma's mouth and nose were taped as reported en route to his deportation to Nigeria, a journey he did not make as he died from suffocation before his plane could get to Sofia, the capital of Bulgaria. His death sparked massive protests as Africans especially Nigerians buried their differences and thronged out on the streets. …
Later in the same year precisely in the early morning of 27.05.1999 major houses known to be housing Africans were raided in an operation tagged by the Austrian police "Operation Spring". Many Africans were arrested, charged to court and imprisoned for drug dealing; judgments many of the victims claimed had been under kangaroo courts, and witnesses had been cajoled to testify falsely against them. Activists alleged that the massive arrests and humiliations of these Africans by the police had been in anger to the response of their perceived dented image around the globe by the surprise protests of the death of Marcus Omofuma and not necessarily because of the crime they had been accused and sentenced for.
The accusation had no effect on the side of the authority, but whether the activists were right or wrong many reasoned that the death of Omofuma, the protests and the arrests of Africans had been like that of the African idiom, 'A witch cried in the night and a child died in the morning'. Under this atmosphere of mistrust, coincidence and insinuation to disabuse the minds of people that the Austrian police were not hostile to Africans as envisaged in some places an organisation under the police called "Fair & Sensible" was born to bridge the gap. …
However, in the circle of asylum seekers in Austria the deportation of Africans particularly Nigerians had seemed paramount and had remained very high. But when Dr. Ugokwe became the ambassador of Nigeria in Austria, against the usual trend, he wanted that due processes were followed and the right of Nigerians as enshrined in the Geneva Convention concerning asylum seekers respected, therefore, he never issued Travelling Certificates (TC) recklessly for the deportation of Nigerians without verification of facts.
This situation was probably not acceptable by the host country hence the pressure to recall Dr. Ugokwe was mounted in earnest from all angles on pretty flimsy excuses - like the intention he had shown to contest the Anambara State governorship election under Peoples Democratic Party (PDP). One part of the pressure on Nigeria to force Dr. Ugokwe to rescind his stand of professionalism and patriotism was the denial or the difficulty by Nigerian officials to obtain visas to enter Austria. I was privileged to some classified information on the politics that were played out then.
Uzoma Ahamefule
The Nigerian Ministry of Foreign Affairs then under the leadership of the present Nigerian Ambassador to Canada, Chief Ojo Madueke, intensively pressured Dr. Ugokwe to inconsiderately sign the papers of deportation of Nigerians to ease tension and pressure or face the consequence, - a typical attitude of many Nigerian leaders who care less about the plight of ordinary Nigerians as long as their interests are protected. But without minding the implications Dr. Ugokwe maintained the game of fairness and justice.
When all threats, blackmail and tactics of those who hypocritically claimed to be rebranding Nigeria could not do their bids of influencing Dr. Ugokwe against his integrity, the Nigerian Ministry of Foreign Affairs sent three people to Austria to perform the duty of the ambassador by signing the deportation papers of Nigerians without regard to ethics and norms, an action our late President Umaru Musa Yar'Adua probably was not aware of or could not do anything to halt as a result of his deteriorating health condition - may his soul rest in peace. But before the arrival of the three people in Vienna, Austria, Dr. Ugokwe had called Nigerian ethnic leaders, elders and opinion leaders in Austria and had informed them officially the shame that would happen and had washed his hands off it like the way Pontius Pilate had washed his hands when the Jewish people had demanded for the crucifixion of Jesus Christ.
The damages caused by the visit of these three people - three wise men, were molestations, maltreatments, pains and agonies in many Nigerian homes. People were insulted and bundled without dignity to Nigeria in the name of deportation. One cannot believe this incredibly shame that over 2000 open deportation papers without limited year or date were signed and made available to the Austrian police to deport Nigerians at will. That is, a Nigerian – even when one had claimed to be a Nigerian but may not truly be could be picked at any time and in any year, his/her name filled in the deportation documents and without verification of claims by the embassy deported to Nigeria. Ambassador Thompson Olufunso Olumoko was the leader of the delegation. Most Nigerian homes are still suffering from the tragedy of this three people's visit that usurped the power of the ambassador under the command of Chief Ojo Madueke.
While the rest are now history, the above were in nutshell the major reasons why and the verifiable hard truths of how the former Nigerian Ambassador to Austria, Dr Jerry Ugokwe, was recalled to Nigeria.
We know how difficult it is to satisfy Nigerians, and how sensitive and ethnic minded an average Nigerian could be, as a matter of fact, for Dr. Ugokwe to have been overwhelmingly acknowledged by many as a good leader in Austria cannot be a mistake or by accident because people are judged and remembered in life for two things, the problem they solved and the problem they created. Across ethnic lines, political affiliation and religion Dr. Ugokwe helped over 30 Nigerians to sustainable working positions in the UN, a feat many people in his status may not have bothered to use their positions to influence. He was a dynamic and a selfless leader. With his good deeds boldly printed in the heart of many Nigerians in Austria history will be fair to him and we will never forget him.
Rev. Dr. Martin Luther King, Jr. said "An individual has not started living until he can rise above the narrow confines of his individualistic concerns to the broader concerns of all humanity." You are not a good leader if all you think is about yourself and your family and how to manipulate the already disadvantageous people in disadvantageous positions under your constituency. Dr. Ugokwe deserves the praise of all Nigerians.
A person who pinned his legs on the ground against forces he knew that could crush him politically and put up a dogged stand even when nobody was watching him and stood to gain nothing materially from such risk except to satisfy his conscience in the cause and defense of just ordinary people is a good leader that should be trusted. If such person is given an opportunity the blind could see. Dr. Ugokwe is the picture of that person. Without taking anything away from those that may be aspiring to be in President Jonathan's cabinet, Ambassador, Dr. Jerry Sunny Ugokwe merits to be a minister. That is the verdict of Nigerians in Austria and not what his political enemies may have tagged the 'palace coup' that ousted him out of Austria.
May God protect him, promote him and empower him like He empowered Moses.
To be continued …
Uzoma Ahamefule, a concerned patriotic citizen and a social justice crusader, writes from Vienna, Austria.

I am on FACEBOOK as Aham Uzoma - join me.
[email protected]
+436604659620