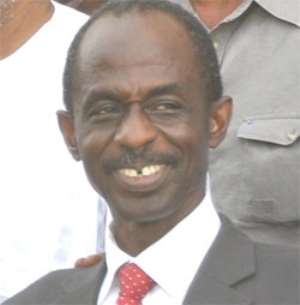 Asiedu Nketia
The General Secretary of the National Democratic Congress (NDC), Johnson Asiedu Nketia is suggesting that government must consider using the oil revenue reserved for future generation in the Heritage Fund to solve Ghana's problems now.
He was of the opinion that government can ease the economic plight of Ghanaians if it begins utilizing the fund.
'In this current situation that we find ourselves in, it doesn't make economic sense to be keeping any money called Heritage Funds,' he explained.
The Heritage Fund is being kept to ensure inter-generational equity and to maintain the value of oil capital since the oil resources are non-renewable.
Mr. Nketia's suggestion follows a number of measures government has put in place to achieve economic stability and save the depreciating cedi.
The Bank of Ghana (BoG) in February banned commercial banks and other financial institutions from issuing cheques and cheque books on Foreign Exchange Accounts (FEA) and foreign currency accounts (FCA).
It also directed banks not to grant a foreign currency-denominated loan or foreign currency-linked facility to a customer who is not a foreign exchange earner.
The central bank further prohibited offshore foreign deals by resident companies, including exporters in the country.
Over-the-counter cash withdrawals from foreign exchange and foreign currency accounts not exceeding US$10,000 was not to be permitted for travel purposes outside Ghana or its equivalent in convertible currency per person per travel.
Three months after the measures were announced, economic experts and some political opponents are of the view there are no significant changes in Ghana's economic fortunes.
In an interview with  Citi News,  the NDC's General Secretary revealed the Heritage Fund 'is kept outside the country and the interest it is bringing is around one percent' therefore, there is no need saving the money when there are pressing needs the money can solve now.
He questioned the rationale behind borrowing from international financing institutions and countries 'at a rate of about five percent, eight percent and so on when our own money is being kept by somebody. It doesn't make sense.'
According to Mr. Nketia, if the fund is used now, it will go a long way to strengthen the economy 'for the up and coming generation than to have an economy that is collapsing.'
Mr. Nketia added that, if urgent steps are not taken to salvage the existing economic crisis, the repercussions on future generations will be severe.
The money, he noted, when released later will be 'handled by citizens who have not been properly educated because you don't have money to educate them now, some of whom have died because you don't have money to take care of their health needs, the roads are not good, the railways are not good and you are still keeping money for some other people who are yet to be born.'
Credit: Efua Idan Osam/Citifmonline