Egypt's judiciary accused of being arm of repression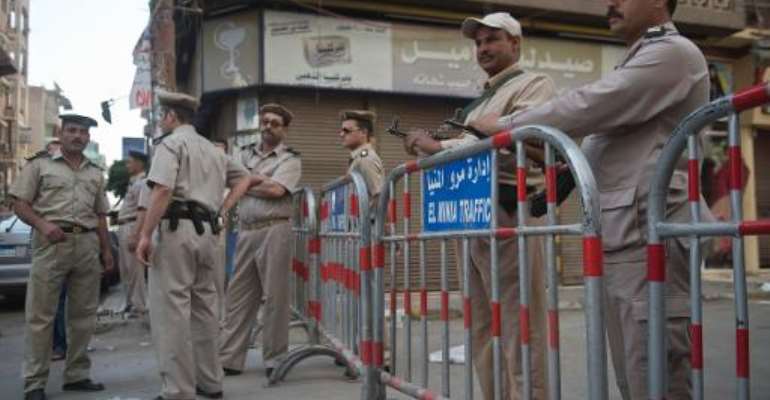 Cairo (AFP) - A wave of mass sentences in Egypt, including hundreds sentenced to death this week after a rushed mass trial, has sparked charges that military-installed authorities are using the judiciary as a blunt tool of repression.
The sentences handed out Monday to nearly 700 supporters of ousted Islamist president Mohamed Morsi -- after only one hearing -- fed international outrage after a similar verdict last month, although most of the previous batch of sentences were commuted to life imprisonment.
On a near-daily basis, new trials open before being swiftly adjourned, with lawyers and human rights activists baffled by the sentencing of dozens or even hundreds of defendants based on evidence that is rarely made public.
Among those sentenced to death on Monday in the southern town of Minya were people who were dead or out of the country on the day of the violent riots they were accused of taking part in.
"If anybody had any doubts that Egypt was eradicating political opposition, those doubts should be put to rest," Sarah Leah Whitson, Human Rights Watch's Middle East director, told AFP. "This is sham justice."
Since the army ousted Morsi, Egypt's first democratically elected president, in July amid a wave of protests against him, a security crackdown targeting his supporters has left more than 1,400 killed and 15,000 jailed.
Hundreds of Morsi's supporters have been sentenced to death or life imprisonment, and dozens more have gotten hefty jail terms.
In one case, 14 young women were given 11 years in jail for taking part in a pro-Morsi protest. The sentence was later reduced on appeal to a one-year suspended sentence, however, and seven girls, initially sentenced to juvenile detention, were ordered freed.
In recent months the crackdown has been extended to non-Islamist activists -- including many who backed the overthrow of Morsi -- following illegal protests against the military-installed authorities.
- 'Execution!' -
Even before the sentencing phase, Egyptian court proceedings are frequently marred by shouting matches involving lawyers and journalists, with police conscripts physically separating the two groups.
At the opening of one of Morsi's trials, local journalists chanted "Execution!"
Morsi and his co-defendants have been relegated to soundproof glass docks for recent hearings to prevent them from interrupting the proceedings.
"It's as if we are judged in absentia," a defendant shouted during one hearing, into a microphone the judge can turn on or off at will.
In the widely covered trial of Al-Jazeera journalists accused of supporting Morsi's Muslim Brotherhood, prosecutors presented a bizarre array of "evidence," including garbled audio tapes that only the judge could understand, reports on the price of meat in Egypt and clips from programmes made by other media outlets.
The military-installed authorities have stood by the judiciary, insisting it is independent, but top officials have privately admitted to being embarrassed by overzealous judges.
The mass death sentences have nevertheless sparked little outrage within Egypt, where an intensive media campaign has convinced many that the Brotherhood is a foreign-backed terrorist group.
During his year in power, Morsi had sought to sideline judges loyal to strongman Hosni Mubarak, who was toppled by a popular uprising in 2011, and some analysts believe the judges are now settling scores.
"The majority of judges are today an arm of the current power, and not an independent institution," and courts are used to "disguise the repression through political trials that are not built on law," said Gamal Eid, a prominent human rights lawyer.
"Egypt's judiciary risks becoming just another part of the authorities' repressive machinery," Amnesty International said Monday, adding that the Minya ruling exposed "how arbitrary and selective Egypt's criminal justice system has become."