Afienya Toll Booth Expansion Halt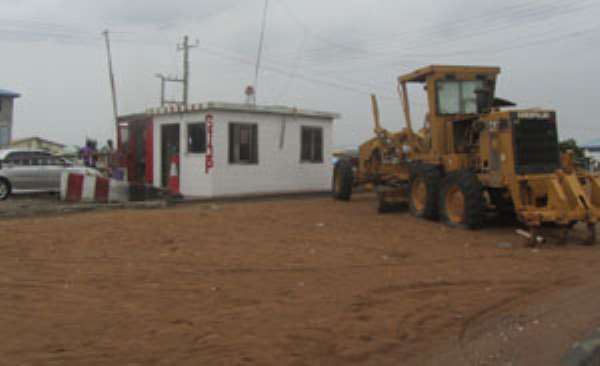 Commuters, residents, toll collectors and traders on that stretch of the highway are expressing worry over the negative impact of the project on their daily activities on the road.
The Ministry of Roads and Highway somewhere in June last year in a bid to bring the ever increasing pressure around the toll booth under control began the expansion of the toll booth section of the road into a dual carriage road to allow for additional toll booths.
However, ever since the asphaltic over the lane was removed and additional toll booths were mounted on the dual carriage stretch, the asphaltic work removed around the toll booth is yet to be reconstructed.
The residents are, therefore, calling on the Ministry of Roads and Highways to expedite action to ensure that the highway is constructed on time to salvage the situation.
The Afienya toll booth collects tolls from vehicles that ply the Tema-Akosombo to Ho and other areas on that road.
The huge number of vehicles that ply the road put pressure on the toll collectors and is compounding the vehicular situation at the toll booth section.
The situation had been worsened by a grader being used by the contractor to block one lane of the highway, compelling drivers to forcibly use a single lane causing traffic and inconvenience.
Hawkers on the road are expressing fear about the dangers that the construction is posing to their lives.
They said should the project be completed, their safety would be ensured.
 From Vincent Kubi, Tema