Goldkey Properties unveils new luxury townhouses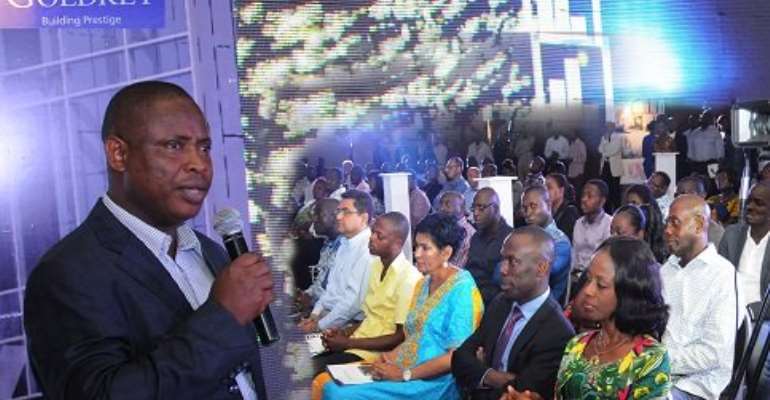 Accra, April 28, GNA - Goldkey Properties, one of Ghana's leading property developers, says it is investing over $ 50 million in its Cantonment's city project to build residential and commercial outlets.
Speaking to the Ghana News Agency at the launch of the sale of new luxury town houses in three prime areas of Accra, Mrs Cynthia Acquaye, the Executive Director of Goldkey Properties, said the flagship mini city was on a 10-acre land.
She said the Cantonment City, which is a mixed-use development, offersed corporate entities the additional benefit of a branded corporate city where companies had the opportunity to lease blocks of office buildings, developed and branded to their specification.
Our commercial city is made up of branded corporate institutions. The beauty of it is that companies can rent a block of the units and brand them in their own corporate colours, she said.
The new properties for sale, situated in Airport, Cantonments and Roman Ridge are built to high international standards by a team of architects, renowned both locally and internationally.
Mrs Acquaye said the properties signified its strong focus on superior finishing, attention to detail, security and comfort, as they are poised to take accommodation to another level.
She expressed the company's commitment in sustaining activities in the residential and commercial real estate market.
The company has the resource capacity and management ability to consistently provide a premium service within the Ghanaian urban landscape, she said.
She said quality is the hallmark of the company so the apartments are well built to ensure minimal maintenance cost.
Apart from the fact that we are joint owners of the property we are also creating a mini Cantonment City, which is not only residential but also commercial, Mrs Acquaye said, adding that the company's immediate goal was to be the leading developer in the country.
Since it was established in 1997, Goldkey Properties has been building premium quality residential and commercial building and the Elizabeth located in the Airport residential area is one of its flagship buildings.
GNA EN-GB X-NONE X-NONE