Modern clinic for Krokosua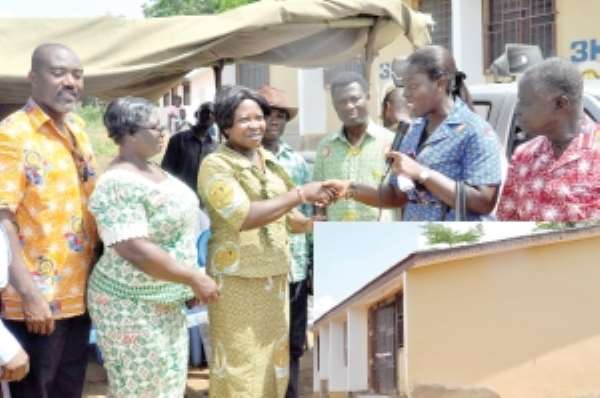 A modern clinic has been handed over to the Ghana Health Service (GHS) at Krokosua, near Asuhyia, in the Ahafo Ano North District in the Ashanti Region.
The US$63,000 health facility was funded by Rotary Club of Kumasi East District 9102 in collaboration with Rotary Club of Cornwell-Sunrise, Canada.  
The clinic, which  has a number of facilities including outpatients department, maternity ward, an antenatal unit, a family planning unit, a  generator for power supply and a mechanised borehole, is  expected to serve nine communities.
The communities include Bosikese, Beposo, Kofi Armah, Safo Asene, Akyiakrom Dotuam, Tanofo, and Nyamebekyere.   
Speaking at the hand over ceremony, Rotarian (Mrs) Marilyn Owusu, the President of  the Rotary Club of Kumasi East District 9102, said the objective of the club was to promote education by providing the needed logistics to improve upon the living condition of the people in rural communities.
She said over the years, the Rotary Club had provided a number of facilities to improve upon the living conditions of the people in the community, which include a  borehole with pump and provision of educational facilities to ensure that the children in the community enjoyed quality education.
Mrs Belinda Baffoe-Bonnie, the District Director of Health Service for Ahafo Ano North,  expressed her appreciation to the Rotary Club  for its humanitarian service to the people in the community.
She called on  the club and other philanthropists  to support the clinic with  an ambulance for referral cases to enhence total health care  
Nana Anthony Osei, the Chief of Krokosua, called on the government to rehabilitate the road network within the communities to facilitate the movement of goods and services.