TUC Slams Gov't Over Economy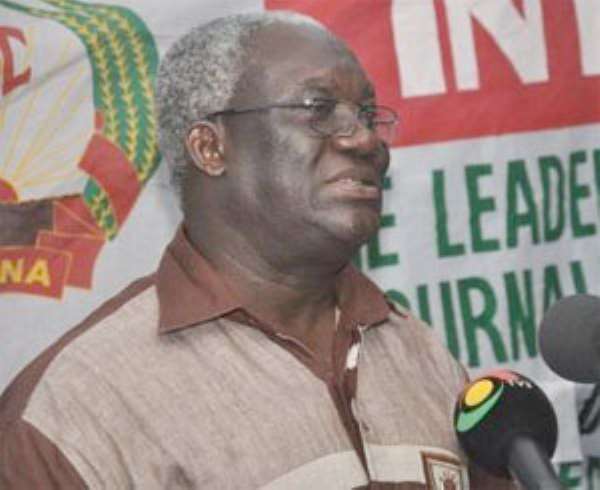 Kofi Asamoah, TUC Boss
The Secretary-General of the Trades Union Congress, Kofi Asamoah says failure to develop purposeful goals with efficient institutions that design and implement smart rules has rendered the country deformed and weak.
Addressing a pre-May Day forum in Tema, Mr. Asamoah called on Organised Labour to salvage and restore the nation to its deserving status.
The forum, which was on the theme: 'Ghana's Economy: A concern for all,' was attended by government officials, as well as General Secretaries and leaders of Organised Labour.
'Our state has become deformed, and unable to undertake the simple task of governing. All the high and low-profile corruption that have become all too pervasive are symptoms of a weak and failing state. We need to rescue, and rehabilitate the state and place at the front and centre of national development,' Mr. Asamoah stated in his remark.
He noted that the grand depreciation of the cedi against all major international currencies is only a matter of course, adding "no currency can withstand such onslaught.'
'The measures by the Bank of Ghana in our view represent a panic reaction that attempts abysmally to tackle the symptoms leaving the structural causes intact,' he stated.
Mr. Asamoah also criticized government for pursuing policies that have "reduced the economy to buying and selling.
'Added to these are the regime of investment rules that favour foreign investors over domestic investors, caved strategic sectors of the economy for foreign capital and grants them mouth-watering incentives, which we are not prepared to give to domestic producers. These bad economic policies have been made worse by a number of domestic challenges including widespread corruption in high and low places, cronyism, incompetence and extreme partisanship.'
The Secretary General further cautioned government against signing the European Union's Economic Trade Agreement, which he said will pose a major threat to the development of the nation.
'Instead of addressing the many challenges that face domestic industry, we are busy creating platforms for 21st century Lugards to lecture Ghanaians about the virtues of free trade and Economic Partnership Agreement (EPA) when in fact all analyses show that that agreement will constitute a major stumbling block to national development."
Source: Myjoyonline