Jamaican government urged to set up consulate in Ghana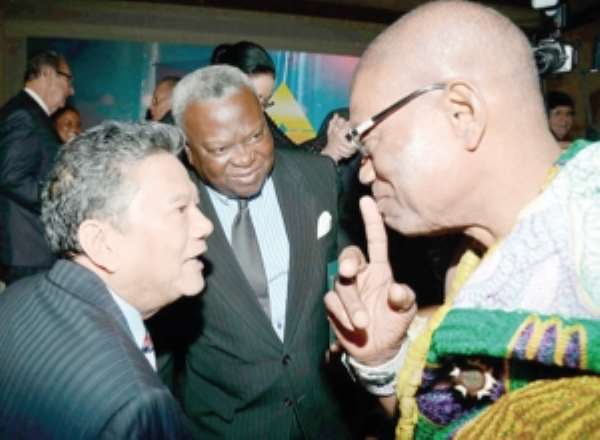 The Jamaican Government has been urged to consider establishing a consulate in Ghana.
The La Mantse and Vice-President of the Greater Accra Regional House of Chiefs, Nii Kpobi Tettey Tsuru III, told a Jamaican newspaper in Jamaica that Ghana was ready to consolidate stronger economic ties with Jamaica.
He said while a Ghanaian consulate existed in Jamaica, Jamaica did not have a consulate in Ghana and added that "we need to move forward with urgency, as we have cultural and historical ties".
Nii Tsuru made the call while he was on a five-day visit to Jamaica, accompanied by Mr Amarkai Amarteifio, the Consul of Sweden in Ghana.
The La Mantse also told the newspaper that Ghanaians were aware and appreciative of the contributions of the Jamaican government to the development of Ghana.
While on the visit, Nii Tsuru conferred on Prime Minister Portia Simpson Miller an honorary citizenship award for her 40 years of public service to Jamaica.
 
Jamaican Ambassador
The La Mantse promised to assume the role of ambassador of Jamaica in Ghana to deepen relations between the two countries.
He said there were many similarities between the two countries that could serve as a starting point to forge a deeper bond.
He indicated that Jamaica and Ghana could benefit from their respective tourism potential.
He described Arnold Foote, the President of the World Federation of Consuls, as a philanthropist extraordinaire. 
"He has, for the past seven years, associated himself with efforts at strengthening the cultural and historical relations between Ghana and Jamaica during a visit to our country in 2008," he said.
 Nii Tsuru said Foote had earned the status of honorary chief and was recognised by the Ghana government as Nana Kobina Manso of the Assin Royal Kingdom.
 
Contribution to Ghana
Describing Ghana as the "motherland" for Jamaica, the La Mantse said Jamaica was viewed in Ghana as a great nation because of the many contributions several Jamaican Presbyterian missionaries made to the development of Ghana 171 years ago.
"There is even a village in Ghana that is called 'Jamaica' because of the significant contributions of Jamaicans to the development of the country. The Aburi Girls' School was established near Jamaica in the Akwapim mountains many years later," he said.
Nii Tsuru added that Rita Marley, the widow of late reggae icon Bob Marley, had relocated to Ghana.
For his part, Mr Amarteifio said if the Jamaican Government established a consulate in Ghana, "it will improve and expand the opportunities for trade in Jamaica and create more air traffic from the Caribbean to West Africa".