Suspected robber killed in Ashiaman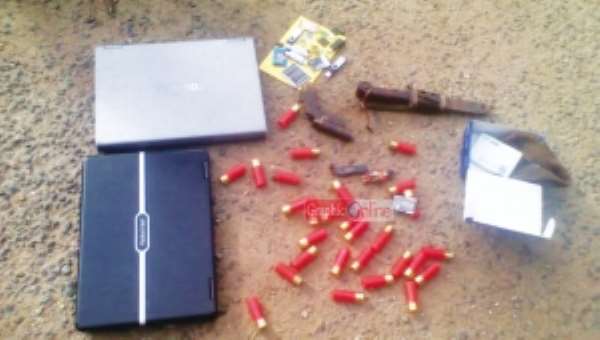 The Tema Police have killed a suspected armed robber in a shoot-out at in Ashiaman suburb called "New York".
The body of the deceased, only known as Asorko, aged 21, has been deposited at the Police Hospital morgue for autopsy.
Twenty-eight AA live cartridges, two wedding rings, two laptop computers, eight pen drives, a mobile phone SIM card and one AK47 bayonet were retrieved from Asorko by the police.
  Briefing
Briefing newsmen about the incident, the Tema Regional Police Commander, Deputy Commissioner of Police (DCOP) Mrs Beatrice Zakpaa Vib-Sanziri, said at about 1:30 a.m. yesterday, the police picked up information that a gang, headed by Augustine Lubayele, aged 25, together with three others, including  Asorko, had assembled and were planning their schedule for the night.
She said just as the robbers had finished their plans and were about to embark on their robbery expedition, the police patrol team advanced on them but one of the robbers armed with a pistol,  opened fire on the police and they returned the fire, resulting in the death of one of the robbers.
DCOP Mrs Vib-Sanziri said three other suspects, including the gang leader identified as Augustine Lubayele, however, managed to escape.
Police –Public collaboration
She attributed the success of the operation to what she termed a collaborative effort between the public and the police, adding that the police acted on information it received from a member of the public through the command, which acted swiftly.
The Tema Regional Police Commander appealed to members of the public who lived with criminals or knew their hideouts to support the police by providing useful information that would help reduce crime. 
She gave an assurance that the police would always protect the identity of such informants.
"We do not want the situation where our patrol teams only react to these robberies when they occur but we should take action to prevent them as well," she said.
DCOP Mrs Vib-Sanziri appealed to the public to help them locate the gang leader and his two accomplices. 
She also called on the public to come to the Regional Police Headquarters to identify the deceased to help in their investigation.
  Upsurge in crime
She said following recent reports by some residents of Ashaiman about the persistent attacks by a group of gangsters who operated in suburbs such as Gbestile, Washington, Atadeka, Zenu, Bumper-to-Bumper and New York, the Tema Regional Police Command had taken a number of measures, including intelligence gathering, to arrest the perpetrators.