Court sentences two for contempt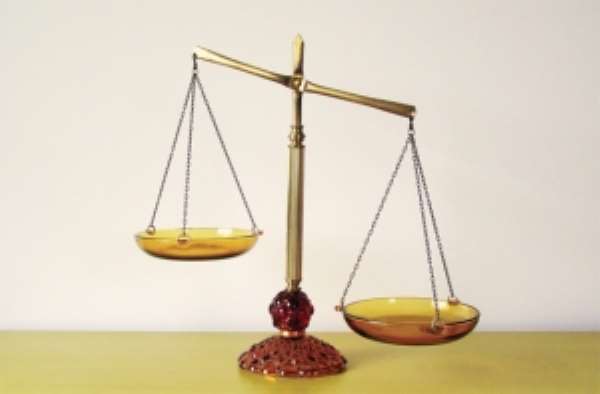 The Cape Coast High Court has sentenced Nana Ampem Darko, the Abusuapanyin of the Asona clan of Diaso in the Denkyira Traditional Area, and one other, person to 21 days imprisonment each for contempt.
The other convict is Amgo Mensah, a claimant to the Diaso Stool, who was also described as Asona chief of Diaso. 
This followed an application brought by Nana Agya Ameyaw II, chief and occupant of the Ahwenie-Asenkye Stool of Diaso, praying the court for an order of committal of the two for contempt against the Judicial Committee of the Central Regional House of Chiefs.
Moving the motion for committal, lead counsel for the applicant, Dr Kwaku Addeah, argued that the respondents ignored the fact that there was a petition and motion for interim injunction pending at the Judicial Committee of the Central Regional House of Chiefs and went ahead to install Amgo Mensah as chief of Diaso.
He further argued that since the petition and the motion for injunction were in effect to prevent the respondents from installing any one as chief of Diaso, the purported installation of Amgo Mensah during the pendency of these legal processes was contemptuous of the judicial committee. Judicial committee despised
Dr Addeah finally prayed that the respondents should be convicted to prison custody because they had by their conduct despised the Judicial Committee of the Central Regional House of Chiefs, defied its authority or dignity as a judicial institution, interfered with its right of administration of justice, and generally showed gross disrespect not only to that committee but the entire judiciary as established under the Constitution of Ghana.
In opposing the application, counsel for the respondents, Mr Michael Arthur Dadzie, argued that the conduct of the respondents did not constitute contempt, because there was no court order restraining the respondents from installing a chief, while the Judicial Committee did not have jurisdiction to entertain the petition, thereby making all legal processes emanating from it a nullity. Judgement
In its judgement, the court, presided over by Mr Justice Kwasi Dapaa, held that once the respondents had become aware of the pendency of the petition and the motion, any conduct on their part that would prejudice their fair hearing was tantamount to contempt.
The court held that the defence raised by the respondents that they disregarded the pendency of the petition and other processes because they constituted a nullity could not be sustained.
This, the court contended, was because the respondents needed a decision from the judicial committee or from any other court of competent jurisdiction in that regard to justify their conduct.