Societe Generale offers €7.5m to GREL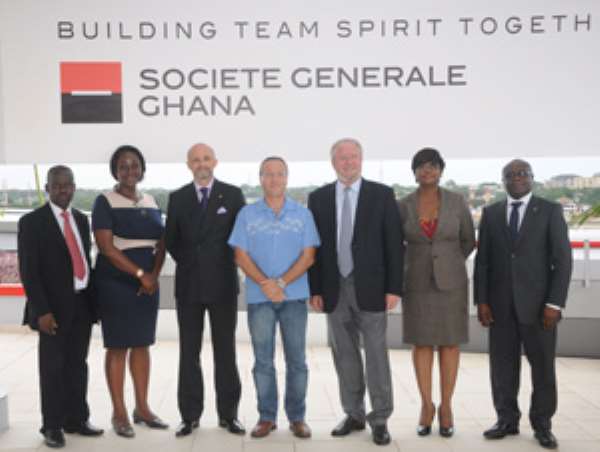 Officials of SG and GREL pose for the cameras
Societe Generale Ghana (SG Ghana), a leading banking institution and a subsidiary of the Societe Generale Group, has supported the Ghana Rubber Estates Limited (GREL) with a €7.5 million 10-year facility to assist the company develop a new rubber plantation as part of its expansion programme.
Deputy Managing Director of SG Ghana, Borut Vujcic, signed the agreement for the bank while the Managing Director of GREL, Lionel Barre initialled for GREL recently in Accra.
Borut Vujcic stated that the facility showed that SG Ghana was committed to meeting the needs of the private sector by providing it with the needed long-term financing.
Mr. Barre, who expressed his appreciation, stated that the facility was in line with the company's target of doubling its current production capacity of 17,000 to over 45,000 tons per annum by 2020.
Gilbert Hie, Managing Director of SG Ghana, stated that long-term financing in Euros was indicative of Societe Generale Ghana's commitment to providing adequate financing to exporters in producing locally and promoting Ghana exports.
Societe Generale Ghana is one of the leading banks in Ghana with 37-networked branches across the country.
With more than 148,000 employees in 76 countries, it serves 32 million clients throughout the world on a daily basis.
It provides retail, corporate and SME clients with dedicated innovative products and services aimed at anticipating customers' needs.
The bank is the foremost innovator in the banking industry spearheading key reforms such as doorstep banking, factoring, foreign exchange and commodity hedging, consumer credit loan, Sika card, Sikatel and Sikatext to meet its customers' needs.
Societe Generale has been playing a vital role in Ghana's economy for 150 years.
A business desk report