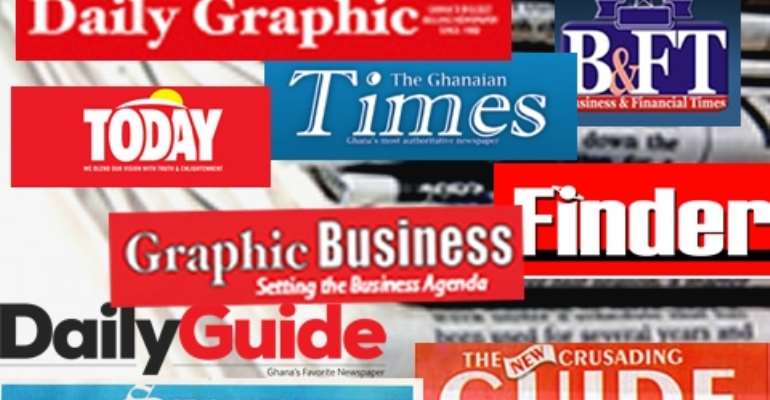 FATHER, DAUGHTER TRAPPED TO DEATH BY COLLAPSING BUILDING
A father and his four-year old daughter were crushed to death last Tuesday when portions of their weak dilapidated building  collapsed on them at Aninkromah, near Barekuma in the Antwima Nwabiagya District in the Ashanti Region.
DEBATE EPA DEVOID OF EMOTIONS, IDEOLOGY
The Minister of Foreign Affairs, Ms Hanna Tetteh, has urged all individuals and organisations engaged in the debate on the Economic Partnership Agreement (EPA), including legislators in the sub-region, to approach it on the basis of adequate information and not operate on the foundation of ideology  and emotions.
NATIONAL INTEREST DIALOGUE TO BE LAUNCHED MONDAY
The Civic Forum Initiative (CFI) and its partners have proposed a set of complementary reforms aimed t filling the gaps in the constitutional review and amendment processes.
PRESIDENT ORDERS GYEEDA TO WITHDRAW ADVERT ON ICT MODULE
The Office of the President has directed the management of the Ghana Youth Employment and Entrepreneurial Development Agency (GYEEDA) to withdraw all advertisements relating to an ICT module it intends to implement.
HFC TAKEOVER BID: SEC FACES CRITICISM
The Managing Director of HFC Bank Asare Akuffo is accusing the Securities and Exchange Commission (SEC) of "being unfair" in its refusal to grant a waiver to Republic Bank when the Trinidad and Tobago-based lender, which owns 40 percent of HFC, decided not to exercise a right to take over the Ghanaian bank.
MERCHANT BANK LAUNCHES NEW IMAGE
Merchant Bank Ghana is now Universal Merchant Bank after it unveiled a new logo as part of restructuring agenda to modernise, win back public trust, and return to profitability.
PRUDENTIAL INCREAES CAPITAL BASE AS IT OPENS FOR BUSINESS
Prudential plc, one of the most strongly capitalised life insurers, has provided an additional $5 million of capital for Prudential Ghana.
This follows the acquisition of Ghana's Express Life Insurance Company Limited ("Express Life") by Prudential Plc and approval from the National Insurance Commission.
MASS BURIAL FOR 254 STILLBORNS -- SOME IN 37 HOSPITAL MORGUE FOR 4 YEARS
The 37 Military Hospital in Accra is to conduct a special mass burial of 254 unidentified and unclaimed corpses of stillborns which have been abandoned at the hospital mortuary for the past four years.
[PROFILE] CHRISTIANA OPARE -- QUALIFIED ACCOUNTANT AT 21
While  some of her peers are busy following fashion trends and are perhaps in a state of confusion as to what to do with their lives, at 21 Christiana Opare is already a qualified Accountant.
THE INDIAN SANITARY PAD REVOLUTION
A school dropout from a poor family in southern India has revolutionised menstrual health for rural  women in developing countries by inventing a simple machine they can use to make cheap sanitary pads.
AFAG ISSUE 1-WEEK ULTIMATUM TO GOV'T; BUT GOV'T SAYS NO TO VAT WITHDRAWAL ON BANK SERVICES
The Alliance for Accountable Governance (AFAG) has issued a week's ultimatum for the John Mahama-led National Democratic Congress government to withdraw the 17.5% Value Added Tax (VAT) on bank services.
DON'T CHANGE PERRY OKUDZETO -- AGENDA 2016 MOVEMENT TELLS NEW NPP OFFICERS.
A pro-New Patriotic Party pressure group says it will be a great loss and a very unfortunate move for Perry Okudzeto to be removed as Communications Director at this critical time in the party's forward march to victory in the 2016 elections.
VIRGINITY: WHEN SHOULD YOU LOSE IT?
A cross-section of women Weekend Finder has spoken to in Accra and Kasoa are of the view that when a loses her virginity does matter to her.