South Sudan to free alleged rebel leaders in peace gesture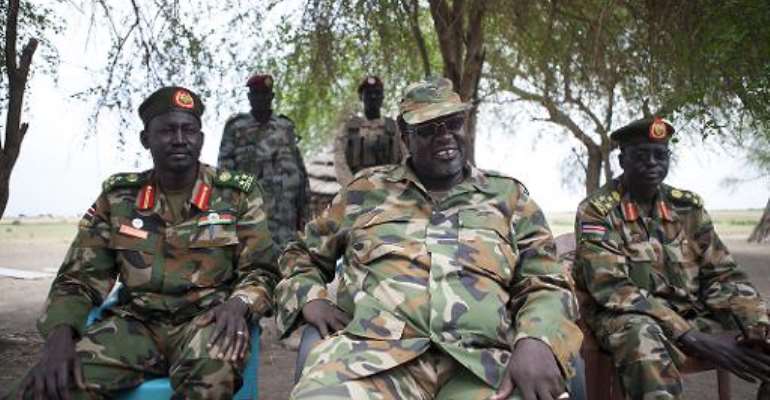 Juba (AFP) - South Sudan announced Thursday it was dropping charges against four alleged top rebels on trial for attempting to overthrow the government, saying it was a gesture aimed at ending a four-month-old civil war.
The continued detention of the four has been a major sticking point in peace talks, and the gesture comes as the leaders on both sides of the conflict face the threat of UN sanctions amid worsening violence and atrocities.
"The leadership has decided that for the purpose of promoting dialogue, reconciliation, harmony among the South Sudanese people... I should use my powers to stay the proceedings," Justice Minister Paulion Wanawilla told reporters.
"To stay the proceedings legally means that we have to write to the court to not continue against most of the accused," the minister said, adding that charges against former vice president Riek Machar, who fled the capital and is leading the rebellion, still stood.
The four alleged rebels were arrested in Juba after fighting broke out between members of the presidential guard. The fighting rapidly escalated into all-out war between troops loyal to President Salva Kiir and defectors and ethnic militia loyal to Machar.
Kiir accused Machar and his allies of attempting a coup, and initially 11 of his loyalists were put on trial. Machar denied the allegation, and in turn has branded Kiir a "genocidal leader" who started the war by carrying out a purge.
Seven of the original 11 detainees were freed in January as part of a regional peace effort, but the release of the remaining four has been a standing rebel demand and their trial has been seen as a barrier to progress in peace talks that have been held in Ethiopia.
According to the minister, the four detainees were likely to be freed on Friday and all charges dropped.
The move comes amid worsening violence in South Sudan, the world's newest nation which only won independence from Khartoum in 2011. The conflict has already left thousands, and over a million displaced.
Both sides have also been implicated in atrocities and war crimes, and fighting has intensified with the rebels saying they are closing in on northern oil fields and several key towns.
Last week the rebels were accused of murdering hundreds of civilians after capturing the oil hub of Bentiu, and a pro-government mob killed dozens of civilians in an attack on a UN base in Bor where they were sheltering.
On Thursday the embattled UN mission in South Sudan, UNMISS, condemned "in the strongest possible terms" an attack by unidentified gunmen on a convoy of barges carrying vital food aid. It said four crew members and peacekeepers were wounded.