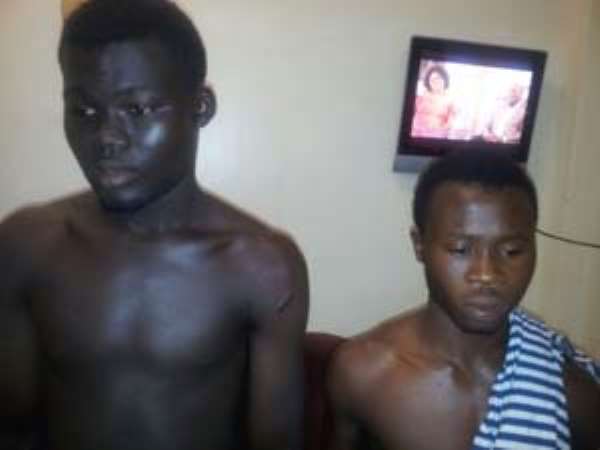 Stephen Oduro aka Escobar (left) and George Mensah aka Jah Rule
THE POLICE at Tafo/Pankrono have arrested two suspects who robbed a man of his two mobile phones at knifepoint.
The suspects are a 17-year-old Stephen Oduro aka Escobar and George Mensah, 17, popularly called 'Jah Rule.'
The duo allegedly pulled a knife at one Frederick Domfe on April 15, around 10:30pm, at a location on the Krofrom to Tafo Nhyiaeso route.
The two robbers managed to rob their hapless victim of his two mobile phones but they were arrested some minutes later by the police.
The Acting Police Commander, Tafo/Pankrono Division, Superintendent Frank Aborakwa, made this known in an interview with DAILY GUIDE.
According to him, the two suspects were hiding at a washing bay in the area whilst the victim was passing by.
Escobar and Jah Rule called the unsuspecting man to where they were hiding and pulled a knife at him and took away his two mobile phones.
The victim who was not harmed by the robbers, rushed to the Tafo Nhyiaeso police to lodge a complaint.
The policemen on duty quickly rushed to the crime scene and arrested the two suspects who were still hiding at the place, perhaps waiting to take advantage of another person.
Superintendent Aborakwa said the two suspects upon interrogation admitted that indeed they robbed the victim of his two mobile phones at knifepoint.
He said the two suspects have been remanded and would reappear in court in Kumasi on May 2, this year.