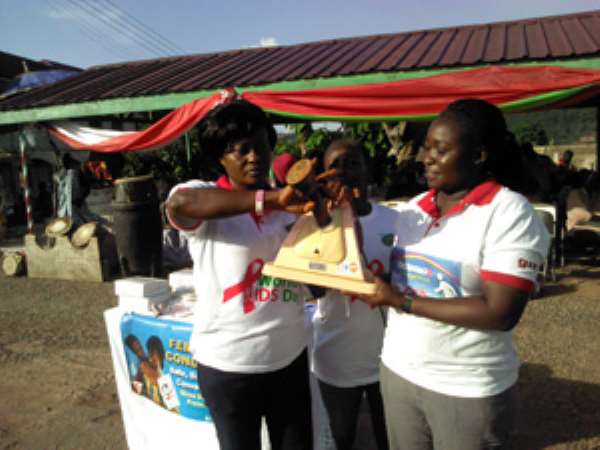 Nurses demonstrating the use of female condom
The queen mother of Oboo in the Kwahu area of the Eastern Region, Nana Afriyie Fosua Koboo II, has called on Ghanaian women to patronise the female condom in order to protect themselves from sexually transmitted diseases (STDs) and unwanted pregnancies.
The queen mother was speaking at a fundraising function at Obo-Kwahu during the Easter festivities last Saturday.
She explained, 'If young ladies will ensure their own protection by using the female condoms, then STDs will largely be under control.'
http://www.dailyguideghana.com/wp-content/uploads/2014/04/obohemaa.jpg
Obohemaa dancing after her speech
In an interview with the DAILY GUIDE, the queen mother added that 'some mischievous men could agree to use the male condom but would secretly remove it during sex because they claim sex with condom is not as pleasurable as going 'raw'.'
Dr Samson Badu Ofori, formerly of Ghana AIDS Commission, also added his voice to the queen mother's saying by calling on all women to wear the female condoms even two hours or more ahead of sexual intercourse to be better protected.
There were nurses who demonstrated the use of the female condom to the crowd that came to Kwahu as part of the Easter celebration.

From Rocklyn Antonio, Obo-Kwahu